Even if you weren't a teenager in the 1990s, it's hard not to have watched Beverly Hills, 90210 over the last 30 years.
At the very least, you are probably familiar with the background of the series, its stars, and their tumultuous personal lives during and since the show first premiered in 1990.
With reboots and revivals all the rage in the 21st Century, it was almost inevitable the iconic series would get in on the action in one way or another (again). 
We're here to tell you how BH90210 differs from its predecessors within and outside of the franchise.
When the story first broke that the franchise might return in some way, it could have meant anything.
With already one reboot under its belt on The CW, characters from the original series were never far away from our hearts even with decades, a new network, and an almost entirely new cast between us.
Beverly Hills, 90210 Cast: Where Are They Now
When it was revealed that the cast would reconnect not to reprise their original characters but would play heightened versions of themselves, it felt like a bit of a letdown.
But what the people behind this production knew is that the actors within the show had become as much characters in our lives as their fictional versions.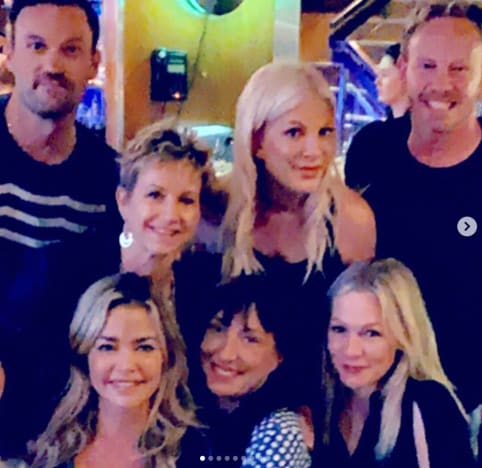 Mockumentaries can be quite entertaining, and they do best inside a world that is somewhat familiar to the audience.
There have been mockumentaries about a theater group (Waiting for Guffman), the intriguing world of dog shows (Best in Show), rock bands (This Is Spinal Tap), criminals (Take the Money and Run), and beauty pageants (Drop Dead Gorgeous), among other things.
The Beatles A Hard Days Night featured the group playing heightened versions of themselves, and Larry David emulated that idea with Curb Your Enthusiasm. That's the path the Beverly Hills, 90210 cast does with BH90210.
Now, I'm not saying BH90210 is going to sit beside Curb Your Enthusiasm in the annals of history, but the premise is the same. You might know everything about this cast, but you're not going to know everything about the cast of characters on BH90210.
The players are instantly recognizable, of course, and once you start watching, it's easy to understand why their fictional counterparts received a shakeup in their personal lives. 
Even if they're playing characters of themselves, these are real people with real names. Dragging their significant others or kids into the equation is a commitment that should only be undertaken for factual representation.
This is not a factual series, but the stars are definitely playing into their history.
Tori Spelling leans into everything about her that has made you shake your head over the decades -- from her marriage to her reality show to wondering how in the hell someone with her pedigree and experience could be so broke.
In fact, it's Tori's lackluster life (I'm using first name for the fictional characters, and last names for the stars!), the recollection of all that she was (and they were), and how her life spiraled in directions she never imagined that leads Tori to give it another go.
In the fictional world of BH90210, Tori has made many of the same mistakes, and when she's flying coach with Jennie Garth to the big Beverly Hills, 90210 reunion, she can't get it out of her head that they were, ultimately, better together.
New Beverly Hills, 90210 Series Isn't a Reboot or Revival
Garth's Jennie is in a struggling marriage and has a beautiful teenage daughter who wants to get into the business. But after a lifetime of disappointments because she grew up too fast in the eyes of the world, Jennie is doing everything she can to stop her daughter from repeating her mistakes.
That means one of the last things she wants is to thrust her family back into the limelight.
It's not a story far from the truth as Garth revealed in her memoir, Deep Thoughts from a Hollywood Blonde that her youth was one of excess creating severe anxiety as the cast was caught completely off-guard for their almost overnight stardom.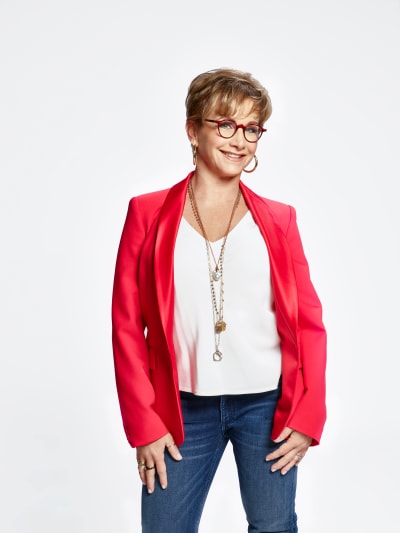 Gabrielle Carteris has grown quite a bit from her days as Andrea on Beverly Hills, 90210. In recent years, she's been best known as the SAG-AFTRA president representing actors for the guild.
Fiction imitates real life for Carteris as fictional Gabrielle is also president of an actors' guild. She's happily married and living a fulfilled life, until she isn't.
Reveling in the joy of Beverly Hills, 90210 fans, Gabrielle begins to question whether she ever fully explored her sexuality. Since many believe Carteris to be gay and always wished Andrea had admitted a counter-heterosexual preference, the story becomes more inclusive with this endeavor.
Jason Priestley embraces the opportunity to play an exaggerated version of himself with great zeal.
The actor and director leans into the bad-boy roles he's had since being a teen heartthrob with the suggestion that his terrible reputation kept him from his vision of movie direction.
Beverly Hills, 90210 Reboot: Who's Not Returning?
Jason is viewed by the others as conceited and he's often out of reach of the others as a result of his boorish behavior and their desires to keep their distance.
The show suggests that Jennie and Jason have a love/hate relationship with each other that could get rekindled at any moment, and the possibility offers one of the first potential couples of the new series.
Ian Ziering is still the guy we know who once played Steve Sanders and then became a surprising B-movie sensation as the lead of the Sharknado franchise. 
The fictional character leans heavily toward motivational speaking and healthy life products with his wife and is believed by his former costars to have found the formula for a successful love/professional life.
It's television, and as nothing is ever as it seems, the fictional world suggests his success isn't all it's made out to be, and to keep himself from going over the edge, another shot at his Beverly Hills, 90210 glory would be well worth his time.
Brian Austin Green's fictional Brian is probably the farthest away from Greene himself.
With an incredibly successful wife who's star outshines him, Brian has given up the limelight for fatherhood while his wife reaches dizzying heights of celebrity with her singing career.
While it once could have been argued that Green's marriage to Megan Fox was similarly situated, their careers have evened out as they seemingly chose family over stardom.
Vanessa Lachey Joins Beverly Hills, 90210 Revival: Who is She Playing?!
With a wife who is practically a caricature of success in the business he has abandoned, it seems like Brian could be drawn to the innocence of youth. Can Tori help but imagine how well they fit together on screen and off decades earlier?
In reality, Greene has never been far from the public eye, though, with many successful roles under his belt since Beverly Hills, 90210. On BH90210, getting back into the business isn't the easy transition he would have hoped, and that stokes his fire to reclaim his role as David.
That leaves us with Shannen Doherty, who was the last to sign onto the mockumentary treatment of her launch into iconic status.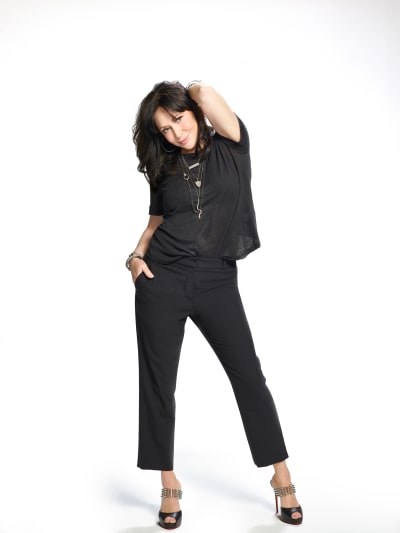 Throughout the first two episodes, the group noted above gets together to revisit their past at a reunion event, but Shannen is into pursuits far from the life she once led.
While Doherty has never been able to adequately shrug off her stint as Brenda on-screen or her youthful run-ins with the cast and crew behind the scenes, she's been a frequent star of television movies and might be better known for her (also troubled) role on Charmed than Beverly Hills, 90210.
Doherty also battled cancer publicly and works fervently on behalf of animal rights, and it's the latter that fictional Shannen embraces in her post-Beverly Hills, 90210 life.
Shannen does appear in the first two episodes and has maintained a surprising friendship with at least one of her costars. Luring her to the revival might prove the most difficult.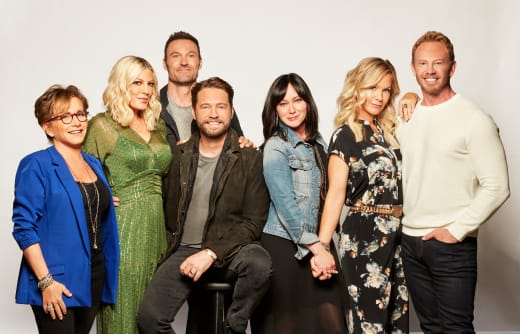 At the heart of the mockumentary is the desire to embrace your past and prove that their youthful endeavors weren't a fluke. 
Tori initially leads the charge for the reunion because of her shaky financial situation, but the more she thinks about it, the more she wants to begin again because she truly believes what they shared was the experience of a lifetime.
The death of their friend, Luke Perry, weighs heavily in the early episodes because his loss readies all for the inevitability that they can't sit back and wait for their futures when that time may never come.
Beverly Hills, 90210 Revival: FIRST FOOTAGE!
The best part is that Tori's pulling together of the former castmates isn't all the story has to offer. By the end of BH90210 Season 1 Episode 2, enough information is offered on where they've been that where they're going could create waves that they never envisioned.
On the mockumentary side, we are as comfortable with this cast as their characters as we are the stars who embodied them, and their exaggeration proves worthy of comedic fodder. But its soapy, too, because the fictional lives they've crafted offer all the juicy shenanigans you expect from a nighttime drama.
The real stars behind the fictional versions have been scrutinized for 30 years. It's probably a whole lot of fun to play to their typecast personas, and it delivers to fans all of the cheesy wonderment you could ask for from a piece of pop culture heavily ingrained in our psyches.
It's fitting that BH90210 premieres in the summer months when it's the Beverly Hills, 90210 Season 2 summer launch just months after the first aired that shot this group to superstardom.
Whether you're a fan of the original or not, there is still a lot of enjoyment to get from BH90210. Even a passing familiarity with the stars should be enough to pique your interest.
The actors' willingness to plow headfirst into the material and take big, healthy bites out of their pride for our indulgence allows BH90210 to make the 90s relevant again.
Get ready for a good time as BH90210 premieres tonight, August 7, at 9/8c only on FOX!
Carissa Pavlica is the managing editor and a staff writer and critic for TV Fanatic. She's a member of the Critic's Choice Association, enjoys mentoring writers, conversing with cats, and passionately discussing the nuances of television and film with anyone who will listen. Follow her on Twitter and email her here at TV Fanatic.