FX News from TCAs: American Crime Story Topic Announced, Atlanta Renewed & More

Carissa Pavlica at .
FX dropped a lot of news from the Television Critics Association Summer Press Tour today.
From new series to renewals, there was action across the board.
Read on to discover what got renewed, scheduled, and more!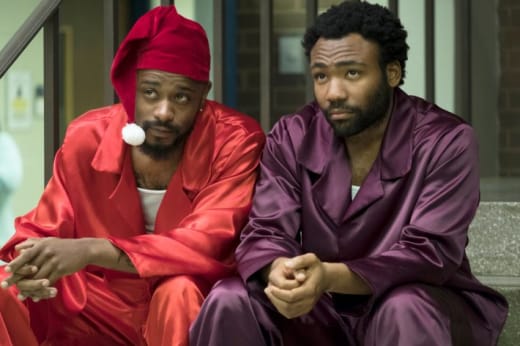 FX is jumping into the documentaries game with a slate of originals as part of their ongoing expansion into non-fiction programming.
Building on the success of The Weekly, FX's new narrative docuseries with The New York Times, Nick Grad and Gina Balian, Presidents, Original Programming, FX Entertainment made the announcement.
"FX has long sought to give artists a platform to showcase their individual, uncompromising vision and its new docuseries and features are an opportunity to extend that ambition in our collaboration with non-fiction talent," said Grad.
"It's been tremendously rewarding to partner with The New York Times and Hulu on The Weekly, which has excelled creatively and is hitting series-high ratings.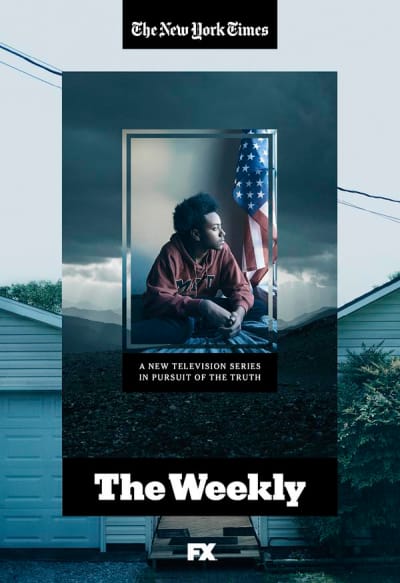 "Under the guidance of FX's Jonathan Frank and J.J. Klein, we are now honored to partner with these new teams to create docuseries and features that will join FX's legacy of fearless and groundbreaking programming."
Outlaw: The Saga of Afeni and Tupak Shakur comes from Emmy-nominated director Allen Hughes. It's a five-part cinematic television event exploring two voices that could not be silenced, activist Afeni Shakur and hip hop icon Tupac Shakur.
Told through the eyes of the people who knew them best, Outlaw is an intimate wide-angle portrait of the most inspiring and dangerous mother-son duo in American history, whose unified message of freedom, equality, persecution, and justice are more relevant today than ever.
A Wilderness of Error comes from Emmy Award-winning producer Marc Smerling and Blumhouse Television. It's a six-part documentary based on Errol Morris' novel of the same name.
When handsome Army Surgeon Jeffrey MacDonald is sent to prison for killing his family, a storm of swirling narratives challenges our very ability to find the truth, all the while overshadowing a chilling possibility: MacDonald may be an innocent man.
Pride is a six-part documentary series chronicling the fight for LGBTQ civil rights in America as seen through the lens of our national history and the biggest pop culture and political events.
Each part directed by a different renowned LGBTQ director, Pride is about all of us, and the awesome, heartbreaking, and heroic story surrounding the LGBTQ fight for freedom over the last 60 years in America.
The Most Dangerous Animal of All is based on the NYT bestselling book of the same name.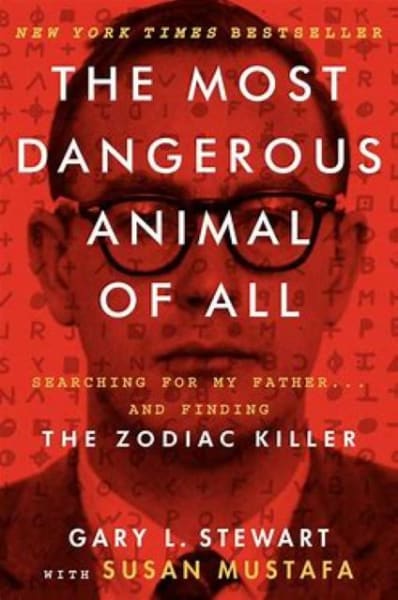 A four-part documentary series that explores one man's search for the father who abandoned him, only to uncover the worst: he believes his father is one of the most infamous serial killers in American history.
Women in Comedy is a feature-length documentary by director Andrea Nevils (Tiny Shoulders: Rethinking Barbie) that will examine the changing landscape for women in stand-up through intimate interviews and the examination of their groundbreaking art in the post Me Too era.
The topics seem well-tread in the documentary industry, but there is always room for more in-depth discussion.
Atlanta, the Emmy and Golden Globe-winning comedy created by Donald Glover, has been renewed for a fourth season.
"What more can be said about Atlanta than the critical acclaim and accolades that Donald, Paul, Dianne, Stephen, and Hiro have earned for two exceptional seasons of what is clearly one of the best shows on television," said Eric Schrier, President, FX Entertainment.
"This group of collaborators and cast have created one of the most original, innovative stories of this generation and we are proud to be their partners."
Atlanta is produced by executive produced by Glover, Paul Simms, Dianne McGunigle, Stephen Glover, and Hiro Murai.
The acclaimed drama series, Snowfall, created by John Singleton & Eric Amadio and Dave Andron will return to FX in 2020 for a fourth season, as well.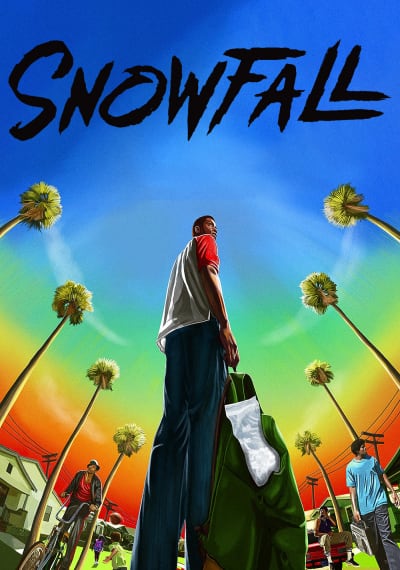 "Snowfall has continued its creative leap forward this season with the hard work and contributions of John Singleton and the brilliant performance of Damson Idris," said Grad.
"We are grateful to Dave Andron, Thomas Schlamme, Michael London, Trevor Engelson and Walter Mosley for honoring John's legacy through their commitment to building on the artistic excellence of Snowfall with a fourth season on FX."
The third installment of the American Crime Story franchise was also announced at the press tour.
Impeachment: American Crime Story unravels the national scandal that swept up Paula Jones, Monica Lewinsky, and Linda Tripp as principal characters in the country's first impeachment proceedings in over a century.
FX's American Crime Story franchise has become a cultural touchstone, providing greater context for stories that deserve greater understanding like the O.J. Simpson trial and saga, and Andrew Cunanan's tragic crime spree which concluded with the assassination of Gianni Versace," said John Landgraf, Chairman, FX Networks and FX Productions.
"This franchise re-examines some of the most complicated, polarizing stories in recent history in a way that is relevant, nuanced and entertaining.
"Impeachment: American Crime Story will likewise explore the overlooked dimensions of the women who found themselves caught up in the scandal and political war that cast a long shadow over the Clinton Presidency.
"We are grateful to Sarah Burgess for her brilliant adaptation, as well as Ryan Murphy, Nina Jacobson, Brad Simpson, Brad Falchuk, Larry Karaszewski, Scott Alexander, Alexis Martin Woodall, Sarah Paulson and the rest of the creative team and cast."
Impeachment: American Crime Story features a stellar cast starring Emmy and Golden Globe Award winner Sarah Paulson as Linda Tripp, Beanie Feldstein as Monica Lewinsky, and Annaleigh Ashford as Paula Jones.
The limited series is based on Jeffrey Toobin's bestselling book A Vast Conspiracy: The Real Story of the Sex Scandal That Nearly Brought Down a President.
The season will be written by Sarah Burgess who is also Executive Producer alongside Ryan Murphy, Nina Jacobson, Brad Simpson, Brad Falchuk, Larry Karaszewski, Scott Alexander, Alexis Martin Woodall and Sarah Paulson.
Monica Lewinsky will serve as Producer. Henrietta Conrad and Jemima Khan will also serve as producers.
And if you're wondering about the premiere date of the series, September 27, 2020, interfering with election results, John Landgraf, Chairman, FX Networks and FX Production, isn't daunted.
"People are going to be very interested in this around the Presidential election, and it is going to be a great show," he said at first, and later, "I don't believe it's going to determine who the next President of the United States is going to be."
With production underway, FX today shared a first look at the cast of the upcoming FX limited series Mrs. America.
Landgraf revealed images from unit photography during the Executive Session of FX Networks' presentation to the Television Critics Association.
The star-studded cast includes Cate Blanchett as Phyllis Schlafly, Rose Byrne as Gloria Steinem, Sarah Paulson as "Alice" (composite character), Margo Martindale as Bella Abzug, Uzo Aduba as Shirley Chisholm, Elizabeth Banks as Jill Ruckelshaus, Tracey Ullman as Betty Friedan, John Slattery as Fred Schlafly, and James Marsden as Phil Crane.
Mrs. America tells the story of the movement to ratify the Equal Rights Amendment (ERA), and the unexpected backlash led by a conservative woman named Phyllis Schlafly, played by Blanchett in her first series regular role in an American television program.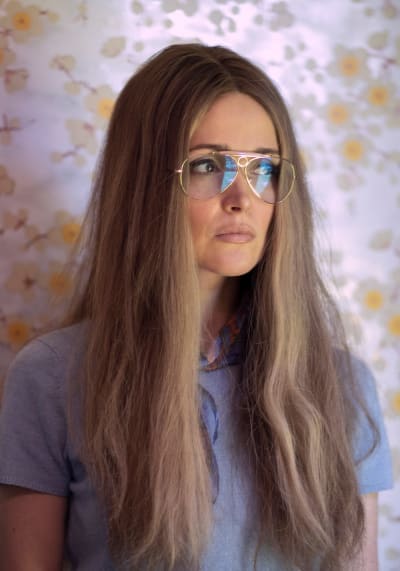 Through the eyes of the women of that era -- both Schlafly and second-wave feminists Gloria Steinem, Betty Friedan, Shirley Chisholm, Bella Abzug and Jill Ruckelshaus -- the series explores how one of the toughest battlegrounds in the culture wars of the 70s helped give rise to the Moral Majority and forever shifted our political landscape.
Mrs. America is written by Emmy® Award-winning writer Dahvi Waller (Mad Men) and Executive Produced by two-time Academy Award nominee Stacey Sher, Waller, Coco Francini, Anna Boden, Ryan Fleck, and Blanchett, with Micah Schraft and James Skotchdopole serving as Co-Executive Producers.
The limited series is produced by FX Productions. Boden & Fleck, who most recently co-wrote and directed the blockbuster feature Captain Marvel, will direct the first two episodes of Mrs. America.
In other FX news, the official trailer for Mr. InBetween Season 2 dropped.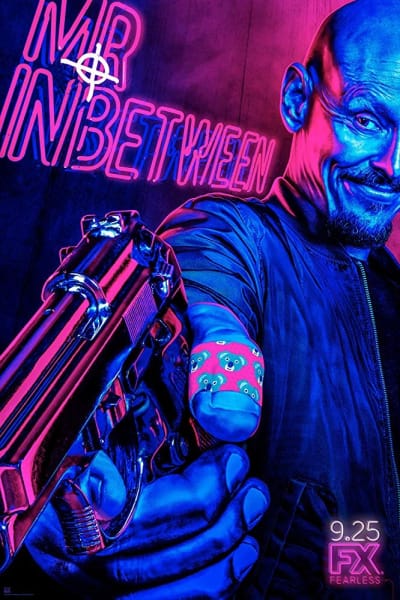 Juggling a relationship, parental responsibilities, friendships, and a sick brother while earning a living would be difficult for anyone, but it's particularly difficult when you're a criminal for hire.
Ray Shoesmith "takes care of people" — collecting debts, relieving them of drugs and guns, and often taking care of them on a more permanent basis. Ray demands respect and does not tolerate it when someone disregards his very clear code of ethics.
On season two of Mr. Inbetween, Ray's work and personal life begin to collide, and he finds himself struggling to keep both sides of his life from imploding.
The series returns to FX on Thursday, September 12 at 10 p.m. ET/PT.
Carissa Pavlica is the managing editor and a staff writer and critic for TV Fanatic. She's a member of the Critic's Choice Association, enjoys mentoring writers, conversing with cats, and passionately discussing the nuances of television and film with anyone who will listen. Follow her on Twitter and email her here at TV Fanatic.