Legacies Star Weighs in on Character's Conflict with Alaric
Paul Dailly at .
There's a new headmaster at the Salvatore School, and he runs things a little differently than the previous one.
Alexis Denisof debuted as Professor Vardemus on Legacies Season 2 Episode 2, and there's bound to be some drama between him and Alaric Saltzman. 
Denisof recently spoke to TV Line about his role on the successor to The Vampire Diaries and The Originals. 
"While (Vardemus) has a modicum of respect for the efforts that Alaric made in holding the school together and fighting the various monsters off, that's a small part of how he feels," he told the outlet. 
"There's more conflict there than there is agreement about style, content, and curriculum.
Related: Legacies Preview: Josie Goes Dark!
"That conflict of opinion and essential belief about how the kids should behave and operate and learn to use their powers.
"It's great material for their relationship. There's a lot of fun and teasing. It's great when characters can enjoy their disagreements with each other."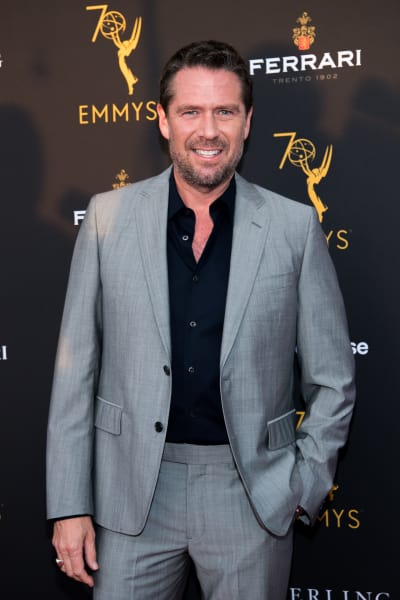 Denisof went on to say that Vardemus wants the students to be able to "influence the world to their advantage."
"He has no qualms about that. It's important that you come to terms with your full self, your full power, and that you use it appropriately."
Related: Riverdale Round Table: Is Jughead's New School Dangerous?
If you watch Legacies online, you know Alaric was ousted from the school he helped create thanks to the way things played out with Malivore. 
Professor Vardemus has already proven that he wants the teenagers to learn more magic, and that could explain why he turned to Alaric's daughter, Josie, offering to help harness her magic.
Josie has always had a dark streak, so it's intriguing that the show is finally taking viewers on a journey with that storyline. 
But don't expect Alaric to be impressed when he learns about it. 
With the annual football game between the Salvatore School and Mystic Falls High coming up on Legacies Season 2 Episode 3, look for Alaric and Vardemus to but heads. 
What are your thoughts on Denisof's comments about the rivalry? 
Do you want Alaric back at the Salvatore School
Hit the comments below. 
Legacies airs Thursday at 9/8c on The CW. 
Editor's Note: Our system got updated! Now, you'll be able to scroll through many articles at once. That required a bit of a change to the comments, though, and now you have to click the blue "comments" bar at the bottom of an article to access them.
There are also two segments to comments now. You can either comment using Facebook or Disqus. Either way, you can SEE both types of comments. We hope that will be more inclusive of our community at large and that the conversations will grow as a result.
Paul Dailly is the Associate Editor for TV Fanatic. Follow him on Twitter.