American Horror Story: 1984 - Burning Questions the Finale Needs to Answer
Paul Dailly at .
It's the end of the line for American Horror Story: 1984. 
The season finale, titled "Final Girl," marks the final installment of the slasher-themed chapter, and it all ends tonight. 
American Horror Story Season 9 is the shortest season to date, but that doesn't mean it needs to wrap with a lot of unanswered questions.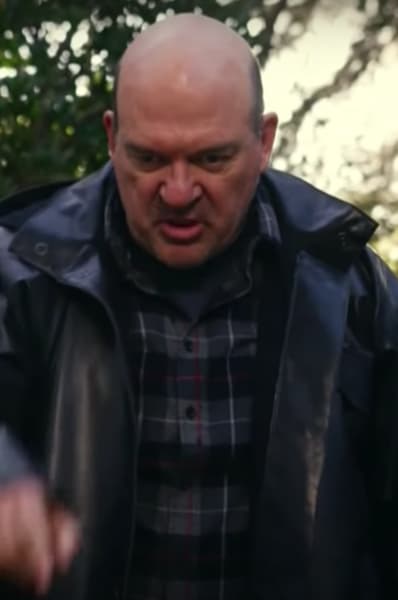 Below, we've rounded up what needs to be answered, or ELSE!
1. What happened to Benjamin Richter?
Just when it seemed like the former Mr. Jingles was strapping in for an indefinite ride in the afterlife, he got dragged into the lake. 
When he woke up, he was still dead, but there was tranquility in the scene that involved him having a picnic with his mother, Lavinia (Lily Rabe), and his brother, Bobby. 
Lavinia was adamant that Benjamin could find peace with his family in the afterlife. But that would go against the rules of Camp Redwood.
Then again, we've been led to believe that Lavinia started the curse, so we could be in for the reveal that she could pick and choose who finds peace. 
2. Who will be the final girl?
American Horror Story plays with expectations, and while many think Brooke (Emma Roberts) will be the last one standing, it could be Donna (Angelica Ross) or Margaret (Leslie Grossman). 
Margaret may be wicked, but Lavinia pushed her to carry out the original slayings. There's a chance that she wouldn't be a killer had it not been for that fateful night.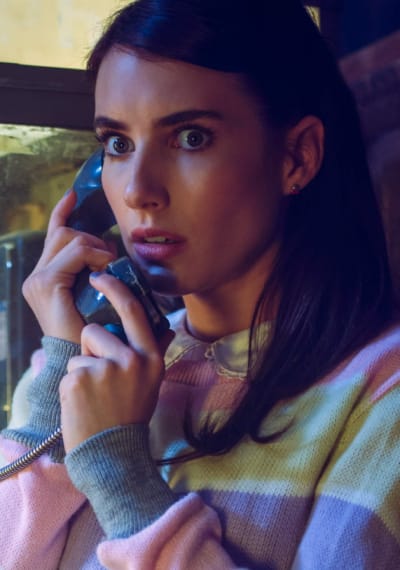 Donna has been badass all season long. She's made some mistakes, sure, but she's also trying to make up for the sins of the past. 
Brooke is a wild card. She's consumed by her revenge plan, and that could be her undoing. Maybe she and Montana could make friends in the afterlife.
I'm totally kidding about that last part. 
3. What happened to Bobby?
Baby Bobby's fate was up in the air on American Horror Story Season 9 Episode 8. Richard Ramirez vowed to kill him, and Benjamin seemingly crossed over to another side of the afterlife.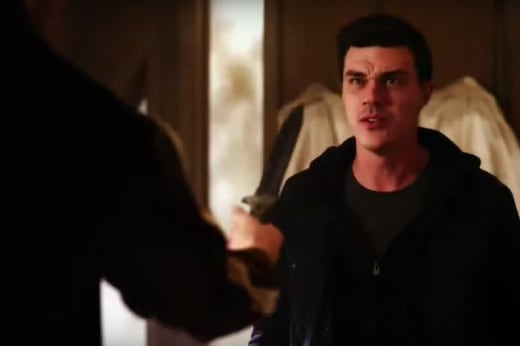 Finn Wittrock is staging a return to the franchise for the finale, so it's possible that he could be playing a grown-up version of the character who arrives at Camp Redwood looking for answers. 
4. What will become of the ghosts at Camp Redwood?
The number of ghosts at Camp Redwood has been growing steadily throughout this 1980s-set chapter. We know they can find peace, but we don't know how. 
Montana, Xavier, and some of the others take great pleasure in killing people, but that is already starting to become a drag for them. 
Are they destined for doom, or will the series channel American Horror Story: Apocalypse and give most of them happy endings (even if they don't deserve them)? 
5. What is the creature in the lake?
Benjamin seemingly found peace after getting dragged into the lake when the creature grabbed him from the boat. How very Friday the 13th of them
The recurring theory doing the rounds is that the beast is his brother. 
Whether that will be the case or not is another story, but it's a solid theory that would connect the dots. 
6. What will happen to Richard Ramirez? 
Richard Ramirez is based on a real-life serial killer. The character previously appeared on American Horror Story: Hotel as a ghost.
What will become of American Horror Story: 1984's iteration of the character?
Okay, American Horror Story Fanatics! 
Did we miss the burning questions you want to be answered?
Hit the comments below. 
Missed an episode?
Remember you can watch American Horror Story online right here via TV Fanatic to get caught up. 
American Horror Story Season 9 Episode 9 airs tonight at 10/9c, only on FX. Come back to TV Fanatic right after for a full review of all the bat$hit happenings. 
------------------------------------------------------------
Editor's Note: Our system got updated! Now, you'll be able to scroll through many articles at once.
That required a bit of a change to the comments, though, and now you have to click the blue "comments" bar at the bottom of an article to access them.
There are also two segments to comments now. You can either comment using Facebook or Disqus. Either way, you can SEE both types of comments.
We hope that will be more inclusive of our community at large and that the conversations will grow as a result.
Paul Dailly is the Associate Editor for TV Fanatic. Follow him on Twitter.