Chicago Fire Season 8 Episode 8 Review: Seeing Is Believing
Jessica Lerner at .
You either go big, or you go home.
And Herrmann certainly went big this episode -- in fact, he may have reached new heights altogether.
This definitely seems to be Herrmann's month, as Chicago Fire Season 8 Episode 8 continued the recent trend of showing just how lovable the character can be.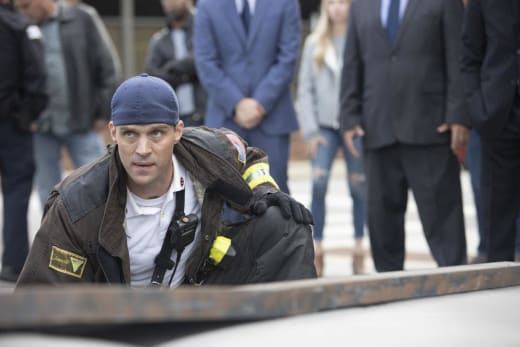 Upon reading the synopsis for the episode -- that when the cause of an apartment fire hits close to home, Herrmann is on a mission to get to the bottom of it -- I wasn't sure what would happen.
However, it was a complete surprise when the cause of the fire connected back to the mattress factory fire that killed Otis.
We see a lot of close calls in our line of work. How soon we can get to a victim, how fast we can get some poor shot kid to the ER. Most of the time their fate – whether they live or die – comes down to a matter of seconds … I hope you understand that in the space of a single heartbeat, my friend Brian saved the lives of me and six other firefighters in your factory fire, but that heartbeat was his last. He was as good a person as you could ever hope to know.

Herrmann
With everyone at 51 moving on with their lives, it's easy to forget that Otis is gone.
Sure, his absence is still felt, but the firehouse has gotten to a point where his death doesn't hang over every scene. 
So to bring this story full circle was something completely unexpected, but deeply cathartic and satisfying.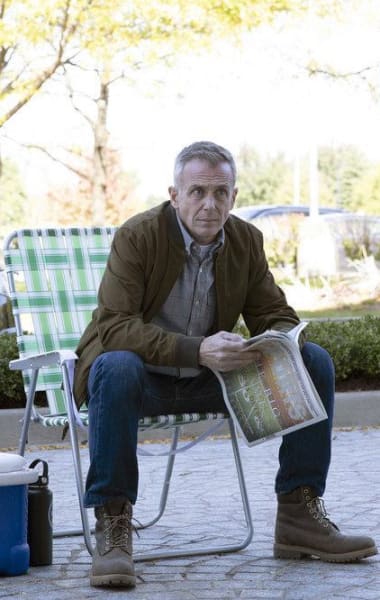 One of the major plot points from Chicago Fire Season 8 Episode 1 was who was at fault for the death of Otis and the other factory workers, but after Boden stepped up and took full responsibility for the call, nothing really came of it.
Things seemed to play out just as Severide suggested during the season premiere: Casey was be cleared, and the incident report would be shoved in a desk somewhere and disappear forever.
I know you're in compliance. I know you're very careful to make sure that your furniture meets the minimum safety standards. But which kind of goal is that – the bare minimum? Look, we're not asking for a miracle here. We know you gotta make a buck. We just want you to take care of your customers, ok. Give those people more than just a nice piece of furniture; give those people a fighting chance because every single second counts.

Herrmann
Though the report may still be hidden away in some drawer, the question of who is at fault -- or at least partially -- was answered.
It turns out the company that manufactures the mattresses from the factory fire uses highly flammable material, which, as viewers saw, caused a couch made from the same material to be engulfed in flames in seconds.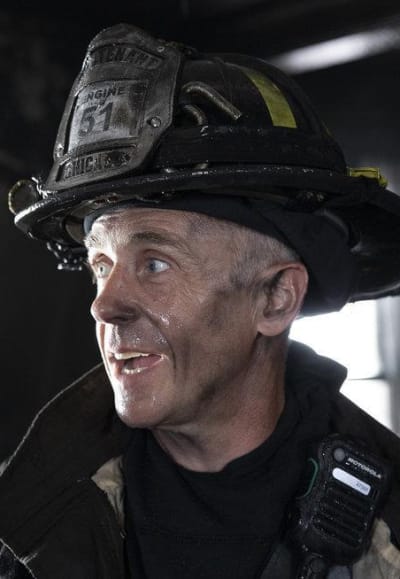 Obviously, 51 wasn't going to take this sitting down, but the question then became how to get the company to fully understand the danger it was putting its consumers in.
Sure, the company may adhere to all the standard safety regulations, but when it comes to firefighting, every precious second matters.
PR Lady: Well, I can assure you we have warning labels on all of our furniture expressly stating that smoking or an open flame such as a candle on or around our materials is a hazard.
Herrmann: No, you see, what your warning labels don't cover lady is that your company products are made out of gasoline.
PR Lady: Our furniture is composed of materials that fall well within state, federal, and international code.
Herrmann: Who cares about code when people are dying?
In the end, it was Herrmann who got through to the company CEO.
He's always been a guy with big ideas, but they usually don't pan out. This time, he struck gold, as both his demonstration and impassioned plea made the CEO rethink the company's policies.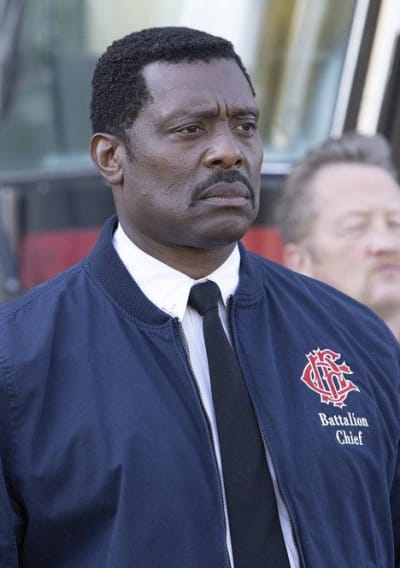 It was a nice moment at the end of the episode, with the CEO and his two children visiting Otis' memorial and the guy telling Herrmann the news.
There was nothing the company or the CEO could do to change the past, but they may be able to save some lives in the future.
Boden: What'd you and Severide call 'em: cigar chats?
Casey: I don't think we call them anything chief.
Boden: Well, since your partner in crime has been detailed out, maybe I could fill in.
Casey: Say no more.
And speaking of the future, is Severide going be staying at OFI for the long term?
Boden certainly thought so, and Seager seemed pretty confident in her assessment after this episode.
The only person who may not be on the bandwagon right now -- besides Severide -- is Van Meter.
Van Meter should have known that having Severide detailed to OFI wasn't going to be a walk in the park, as the squad lieutenant has never hidden who he is as an arson investigator.
Severide has always been the one to speak out when something doesn't sit right or dig into a case that others had overlooked.
And just because he's unhappy about being detailed to OFI doesn't mean that he's suddenly going to stop being who he is.
Van Meter: Have you ever watched a juggler? You know, like an at the circus juggler? You see, a juggler has a limited amount of hands in which to juggle a limited number of balls. If he takes the hand out of the mix or adds too many balls, then everything crashes to the ground. We only have two hands Severide and eight months' worth of balls out there.
Severide: With all due respect, if you wanted someone to just come in here and rubber stamp things, you detailed the wrong guy.
If the plan was to get Severide to transfer to OFI permanently, then the higher-ups probably should have considered how fast Severide would actually close cases.
Van Meter mentioned an eight-month backlog, but at this rate, it would probably take Severide another eight months just to clear those.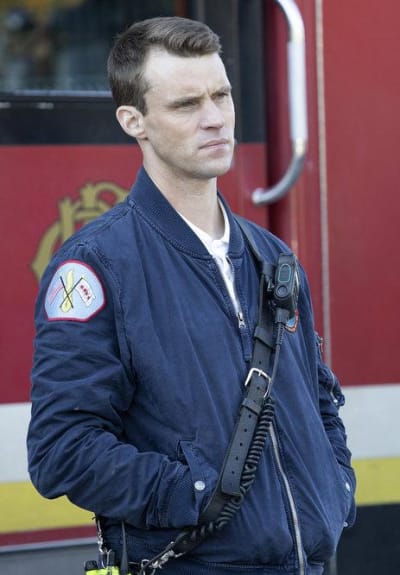 He may be doing the job right, but it seems that OFI is more focused on speed than accuracy.
It wouldn't even be that shocking then if Van Meter or Grissom decides to bounce him before the backlog is cleared, as Severide is just further delaying the process. 
It'd be an interesting way for him to return to Firehouse 51 without leaving or quitting OFI.
Casey: What am I supposed to put in the report? That you spaced out, that Mouch was quicker than you?
Kidd: It won't happen again.
Casey: I'm already training one new firefighter; I can't train two.
As for quitting, that's exactly what Kidd should be doing about her Academy class.
Sure, it's a great way to establish herself as a leader within the CFD, and she doesn't want to let Boden down, but she's burning the candle at both ends between teaching the cadets and full-time firefighting.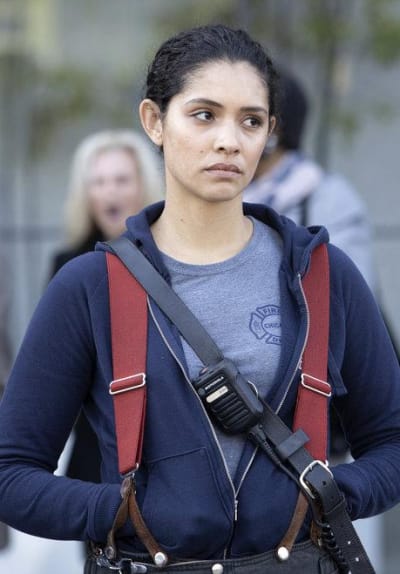 It hasn't even been two weeks, and her overscheduling has already affected her work.
While her mistake on shift didn't put anyone's life in jeopardy, it's only a matter of time before she does something that has long-lasting negative impacts.
Brett and Kidd: They reached so high, high, high; they touched the sky, sky.
Kidd: I'm 90 percent sure there's a double hand clap there.
Brett: Oh, that makes more sense.
Kidd: Right.
Brett: Ok.
Both: And they never came back, back, back, Miss Mary Mack, Mack, Mack.
Boden: Ladies?
Kidd: Chief.
Her job as a firefighter needs to come first, because if she can't do that, then all this extra stuff at the Academy doesn't matter. 
She can't exactly be a leader within the CFD if she's no longer employed by the department or dead.
Some stray thoughts:
Did anyone else expect Foster to move in with someone else from 51 after she mentioned she needed cash because her rent went up?
 
After all the pitfalls at the start of the season, things seem to be on the up and up for Cruz. He and Chloe are planning their wedding, and the orders for the Slamigan keep rolling in. How long do we think his good luck will last.
 
I'm really enjoying Severide and Seager's dynamics, but she needs to find someone else to crush on. Things are already complicated enough with Casey and Brett, and given that Dawson is set to return, this burgeoning love triangle does not need another leg.
So what did you think Chicago Fire Fanatics?
Do you feel a sense of closure after everything that happened with Herrmann and the company CEO?
How will Severide end up leaving OFI?
How long can Kidd keep things up before she makes a mistake she can't take back.
Don't forget to hit the comments below and let me know your thoughts. If you happened to miss the latest episode, have no fear, as you can watch Chicago Fire online right here at TV Fanatic.
Jessica Lerner was a staff writer for TV Fanatic. She retired in October 2021.