What to Watch Next Week: The Affair Finale, Sea of Shadows, High School Musical Musical Series

Carissa Pavlica at .
This week is filled with goodies from award-nominated documentaries to the pre-launch of the Disney+ series High School Musical: The Musical: The Series.
The Affair airs its season finale on Sunday night while the present and future converge on The CW's Arrow.
And, of course, there is more Christmas to be celebrated as the holiday movie madness continues. What will you watch?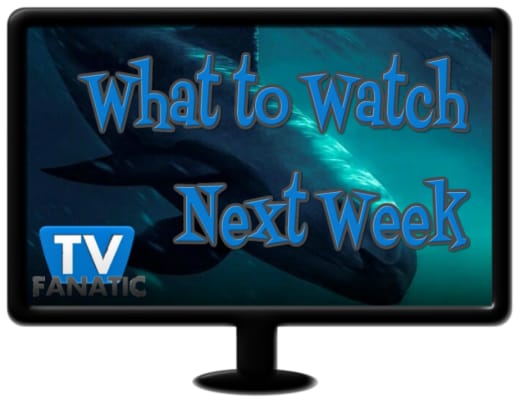 Sunday, November 3
8/7c Batwoman (The CW)
The tragic truth of Beth's transformation to Alice is revealed. Catherine comes clean with Mary, which sends her running to Wayne Tower, where she and Luke meet. Mouse enters the scene.
Batwoman Season 1 Episode 4 Review: Who Are You?
8/7c Always and Forever Christmas (Lifetime)
When marketing exec Lucy (Lawson, Hamilton) learns that she's inherited her grandfather's year-round Christmas store, "Forever Christmas," she makes a trip back home to support the store during its final Christmas season before she sells it to a hip athletic leisurewear company.
But once she is back in Vermont, she begins to understand why her grandfather's shop is so special with the help of local diner owner, Scott (Ghanimé, The Bold Type) and the magic of a Christmas stranger from the north (Broderick, Sharp Objects, Sabrina the Teenage Witch). 
8/7c Power (Starz)
It's time for the midseason finale of Power, and it's being touted as a major game-changer. There have been a lot of casualties thus far, and this episode is sure to keep that trend going. It should be one crazy hour!
8/7c Christmas Scavenger Hunt (Hallmark)
When Calls the Heart's Kevin McGarry stars in this holiday movie with Kim Shaw, and... Tom Arnold?!
When Belinda heads to her hometown for the holidays, things get complicated when she is forced to team up with her ex, Dustin, for the town's annual Christmas Scavenger Hunt.
8/7c Christmas With a Prince: Becoming Royal (UP)
UP has been upping its game with its original movies of late. Will this one hit the spot? After Prince Alexander surprises Tasha with a proposal, will their engagement be everything she ever dreamed of? Or will it be a royal disaster?
9/8c The Affair (Showtime)
The Series finale of this groundbreaking story sets sail just after Helen and Noah established their new phase as friends. With Noah still banned from Whitney's wedding, the available clip shows that Helen wonders why she's still involved.
9/8c Supergirl (The CW)
After learning of William's true intentions at CatCo, Kara teams up with him for a story that may just expose a terrorist organization.
Speaking of CatCo, Andrea's VR contact lenses are finally being released to the world as technology continues to advance in National City. On the other side of the episode, Alex may be in danger just in time for her and Kelly's anniversary.
9/8c The Walking Dead (AMC)
If you're one of the many looking for more Negan, then this is the episode for you.
He's on the road with an unlikely ally and is forced to confront the past. While this is going down, the Hilltop searches for one of their own who has gone missing. 
Mr. Robot Season 4 Episode 3 Review: Forbidden
10/9c Mr. Robot (USA Network)
Sam Esmail has proven to be one of the best cinematographers in the business, but this episode pulls off something that has probably never been seen on the small screen with the latest episode.
You're going to want to watch this one live!
10/9c Madam Secretary (CBS)
If you've been missing ex-President Dalton on Madam Secretary, don't miss Season 6 Episode 5, as he will be in town.
His reunion with Elizabeth is sure to include some sage advice about the scandal hanging over her administration, the latest political conflict, and more.
Monday, November 4
9/8c Prodigal Son (FOX)
It's a Martin heavy hour! Ainsley snagged her exclusive interview with Daddy Dearest, but all hell breaks loose at the facility, and it does NOT go as planned.
The siblings may find themselves working together when Malcolm's trip to the junkyard leads to him narrowly escaping gunfire AGAIN, and Gil and the team discovering multiple bodies. Are they more of The Surgeon's victims?
10/9c People Magazine Investigates (ID)
The latest, 15-episode season of this crime series begins with "Somebody's Watching."
Nanette Krentel is found burned to death in her own home in St. Tammany Parish, LA. Her husband and local fire chief, Steven Krentel, is baffled by the accident that took everything he owned, including his true love. During Nanette's memorial service, news is released that Nanette's cause of death was not by the fire.
She was shot in the head. An investigation into the lives of Nanette and Steven uncover secrets, lies, and deceit while arson experts unravel the story of a fire intentionally set to burn any evidence of a killer.
A family of suspects challenges detectives to find the shooter, while a treasure trove of emails and texts from Nanette point towards those closest to her. For the Sheriff's Department, a mystery ensues: Who killed Nanette Krentel?
Prodigal Son Season 1 Episode 6 Review: All Souls and Sadists
9/8c His Dark Materials (HBO)
This beloved book series is coming to HBO in absolutely splendid fashion. Even if you're not a fan or have never read about it, you'll find something to love about this thrilling and moving series.
10/9c The Good Doctor (ABC)
The Good Doctor is back! Shaun gets another chance at leading surgery, but when he alienates a nurse, will he lose his residency altogether?
Tuesday, Nov. 5
The End of the F***ing World (Netflix)
A lot has changed since the first season, and that results in a different experience for viewers. There's a time jump and Alyssa has a brand new outlook on life, and there are some new characters along the way.
The Good Doctor Season 3 Episode 5 Review: First Case, Second Base
9/8c Arrow (The CW)
Coming off the heels of a dramatic, game-changing cliffhanger on last week's episode, Team Arrow (present and future) find out that they might not be the only ones misplaced in time. A new Deathstroke shows up in Star City just as fathers and children reunite, causing difficult decisions and emotional fireworks.
9/8c This Is Us (NBC)
Randall and Beth's decision that Deja shouldn't date Malik couldn't last long, and on This Is Us Season 4 Episode 7, she defies them, skipping school to spend time with him. There's sure to be fireworks when Randall finds out about this!
Why Kevin Is the Most Underappreciated Character on This Is Us
9/8c The Apollo (HBO)
The Apollo Theater in Harlem is one of the most well-known and widely respected musical venues in the world, and this documentary is stunning in its history. Billie Holiday, Aretha Frankin, Ella Fitzgerald and more got their start at this New York City landmark.
It's one of two can't-miss documentaries airing this week, so make a note of it.
10/9c New Amsterdam (NBC)
Despite the on again off again friction between Max and Helen, the dynamic duo team up again when they uncover a concerning truth.
A medical error, due to one of their doctors put a patient in a wheelchair.
Thursday Nov. 7
8/8c Grey's Anatomy (ABC)
Despite working at different hospitals, Amelia and Owen come together to treat a woman who takes a mysterious fall. Owen finds out that Amelia is pregnant, and he is NOT happy about it.
Maggie meets some of Richard's relatives including his niece with an uncanny resemblance to Maggie (played by Kelly "Maggie" McCreary's sister Crystal McCreary).
Catherine returns and not only has to make sense of whatever the hell happened between Maggie and Jackson but also Richard and Gemma's inappropriate relationship.
9/8c A Blue Ridge Mountain Christmas (HMM>
Rachel Leigh Cook and Benjamin Ayres star in this one. Hotel manager Willow returns to her stunning Virginia hometown to help her sister plan a Christmas wedding at the inn her family once owned. She must work with current owner and single dad David, who wants to let go of the past.
A Million Little Things Season 2 Episode 6 Review: Unleashed
9/8c A Million Little Things (ABC)
Grab a snack because it's finally getting good. Proverbial shots are fired when the gang gather together to celebrate Theo's 10 birthday (and Eddie's sobriety milestone).
Delilah is reeling from the news that Katherine wants to tell the kids the truth about Charlie and whining because someone had the audacity to challenge her on it. She and the Savilles are at an impasse, but the long-awaited Delilah and Katherine showdown happens when Katherine finally gets a backbone and gets all too real with the Dixon widow.
Meanwhile, Rome and Gina try to keep Sophie and PJ from getting too close, and Maggie helps Gary reach a decision about Colin.
Friday, November 8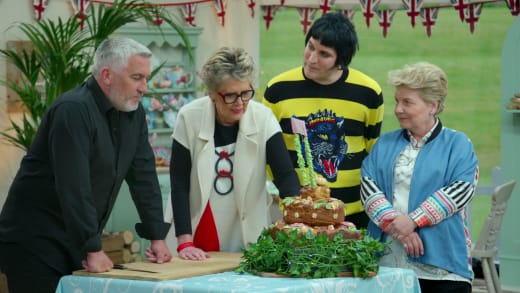 The Great British Baking Show: Holidays (Netflix)
This British import isn't all about the Christmas cookies since they merged all of the holidays for this season, but it will still be worth the investment!
8/7c High School Musical: The Musical: The Series (ABC/Disney/Freeform)
To get the masses to subscribe to Disney+ where this show will ultimately air beginning on November 12, it's getting a head start on the three, parent linear networks. Will you be tuning in?
9/8c Holiday for Heroes (HMM)
After a year's worth of letters exchanged between Audrey Brown (Melissa Claire Egan) and soldier Matt Evans (Marc Blucas), their worlds collide for the first time off the page. Will the spirit of the season bring Matt and Audrey's love beyond their letters?
Saturday November 9
8/7c Amish Abduction (Lifetime)
This no doubt stunning movie stars Sara Canning, Steve Byers, Ryan Bruce, Gabrielle Rose.
Annie (Canning) faces a crisis when her husband leaves their Amish world to live among "normal Americans," or the "English" as the Amish dub them. But things turn even more dire when her husband returns to seek custody of their son and is willing to do whatever it takes to get what he wants.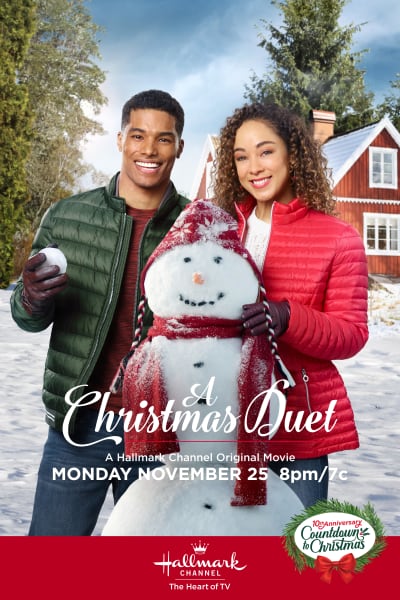 8/7c A Christmas Duet (Hallmark)
Chaley Rose and Rome Flynn star in this movie. Former couple and pop music duo Averie and Jesse unexpectedly reunite at her inn during the holidays. As they spend time together, they rediscover long-buried feelings and must decide if they are meant to live their lives solo or in harmony together.
Enjoy UNLIMITED access to thousands of Movies and TV shows with Amazon Prime Video
9/8c Sea of Shadows (Nat Geo)
This is one of the year's best documentaries. Following the efforts of a multinational team of scientists, activists, journalists, and undercover agents as they go up against drug cartels and illegal traffickers to save the most endangered whale on earth.
It's an award-winning and often nominated doc, and it sticks with you long after you watch.
What will you watch next week?
Hit us up in the comments. And if you think we missed something good coming your way, call us out on it!
---------------------------------------------
Editor's Note: Our system got updated! Now, you'll be able to scroll through many articles at once.
That required a bit of a change to the comments, though, and now you have to click the blue "comments" bar at the bottom of an article to access them. 
There are also two segments to comments now. You can either comment using Facebook or Disqus.
Either way, you can SEE both types of comments. We hope that will be more inclusive of our community at large and that the conversations will grow as a result.
Carissa Pavlica is the managing editor and a staff writer and critic for TV Fanatic. She's a member of the Critic's Choice Association, enjoys mentoring writers, conversing with cats, and passionately discussing the nuances of television and film with anyone who will listen. Follow her on Twitter and email her here at TV Fanatic.