What to Watch: Good Trouble Christmas Special, The Witcher, Live In Front of a Studio Audience

Carissa Pavlica at . Updated at .
If you were a fan of last year's Live In Front of a Studio Audience with All in the Family and The Jeffersons, then you're going to enjoy this week.
Good Trouble and A Very Brady Renovation have Christmas specials, and there are special showings of Wizard of OZ and FX's A Christmas Carol. 
Find out what else lies ahead with our full rundown of TV's best bets!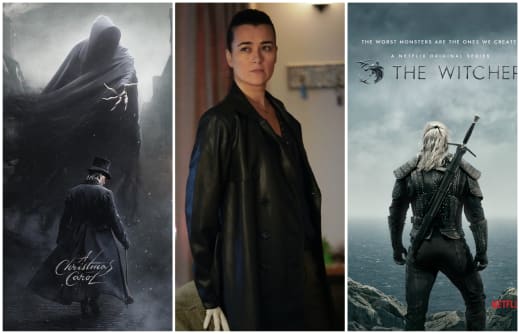 Sunday, December 15
7/8c The Sound of Music (ABC)
This is a yearly tradition in my home! Julie Andrews sings her way through Austria with seven adorable children. Filmed on location, this iconic classic from 1965 will bring a smile to your face and have you singing long after it's over.
8/7c Rediscovering Christmas (Lifetime)
When Mia (Jessica Lowndes), a talented Boston department store window designer, travels to her family's Connecticut town to help her sister design the decor for its annual Snowflake Festival Christmas Eve dance, she finds herself at odds with – and later attracted to – the stubborn but kindly Adam, whose grandparents founded the beloved festival 60 years ago.
8/7c A Cheerful Christmas (Hallmark)
Lauren and her best friend Colleen think they have landed their dream job – giving people the best and most magical Christmas ever as their personal 'Christmas Coaches.'
This holiday season promises to be their biggest ever when they land a royal client, the Anderson family, who has moved from England. When Lauren meets James, the eldest son, he wants nothing to do with planning Christmas as he's busy negotiating a big acquisition for his father's company.
But Lauren won't be thwarted in helping this royal family embrace the true spirit of Christmas. The more she prods James about their family holiday traditions the more he opens up.
Sparks start to fly but she faces competition in the form of an old childhood friend and business colleague of James. Now Lauren must win his heart while giving the Andersons their best Christmas ever. Starring Erica Deutschman and Chad Connell.
9/7c Angel Falls: A Novel Holiday (HMM)
We've had interviews with both Carlo Marks and Jen Lilley in anticipation of this one, so keep an eye on TV Fanatic to read more before the movie airs.
Lilley plays a book editor named Hannah who works with a former rival named Ryan to help her favorite writer find her way with a little help from an angel named Anthony who reminds them about the Christmas spirit and the value of the community.
9/8c Watchmen (HBO)
On the Watchmen Season 1 finale, we hope to find out if Dr. Manhattan's fate plays out as he foresaw, whether the Seventh Calvary will bcome the super army they have been plotting, and what roles Lady Trieu, Adrian Veidt, Hooded Justice, and Lubeman will play in the final confrontation.
Can they answer all of these questions? Whether it's possible or not, this is a conclusion not to be missed.
Monday, December 16
9/8c Good Trouble (Freeform)
It's a two-hour Coterie Christmas special. Most members of the Foster-Adams family will join Callie and Mariana at the Coterie for the holidays.
The fundamentally different Foster Adam's and Hunter family will come together again for the first time since Brandon Foster and Eliza Hunter got married, and it's an awkward ordeal for all.
Gael and Jazmin will have to face their holiday together after being disowned by the Martinez family, and Davia tries to help Dennis through one of the toughest times of the year particularly for someone grieving and battling depression.
It's a fun, sexy, heartbreaking, heartwarming, comical, and emotional standalone event you don't want to miss!
10/9c A Very Brady Renovation: Holiday Edition (HGTV)
Groovy! The Brady siblings reunite again in the iconic reconstructed home to deck the halls and have a merry ol' time.
The cast teams up with Food Network's Ree Drummand and Jasmine Roth, star of HGTV's Hidden Potential to create 70s-inspired treats including fondu-style potatoes, a gelatin fruit salad, and "santapes."
They'll also get crafty by creating do-it-yourself retro decorations to really get into the Brady Christmas spirit.
Tuesday, December 17
8/7c NCIS (CBS)
Gibbs and the team assist Ziva with "the one thing" she said she would need to take care of before returning to her family.
8/7c The Resident (FOX)
The showdown between Cain and Dr. Bell reaches a boiling point during The Resident fall finale as Bell learns that Cain's keeping braindead patients alive in order to boost his survival rates and Red Rock's profits.
Conrad's career continues to hang in the balance as Logan pushes to get rid of him. Meanwhile, Adaku goes into early labor causing a strain on her heart and forcing Mina to make the hardest decision of her life.
8/7c The Wizard of OZ (TNT)
Dorothy lands in Oz to find the Scarecrow, the Tin Man, and the Lion all there to help her find her way home. It's was filmed in 1939 and is still one of the best family films of all time.
9/8c Olaf's Frozen Adventure (ABC)
In this Frozen holiday spinoff, Olaf heads out to find what holiday traditions belong to the people of Arendelle in the hopes of bringing them back to Anna and Elsa. The cast's rendition of the song, "When We're Together" will leave you singing the rest of the night.
Wednesday, December 18
Soundrack (Netflix)
We all have our own soundtracks.
Soundtrack is a romantic musical drama that looks at the love stories connecting a diverse group of people in contemporary Los Angeles through the music that lives inside their hearts and minds.
I didn't get the opportunity to watch much, but for the first time, it's the musical numbers where this show comes alive. That's coming from a self-professed musical hater. 
The series stars Jenna Dewan, Callie Hernandez, Paul James, Madeline Stowe, and Campbell Scott.
8/7c Live in Front of a Studio Audience: All in the Family and Good Times (ABC)
Cast members for All in the Family include returing Woody Harrelson, Marisa Tomei, Ellie Kemper, and Ike Barinholtz as well as Kevin Bacon, Jesse Eisenberg, and Justina Machado.
Recreating Good Times will be Andre Braugher, Viola Davis, Tiffany Haddish, Jharrel Jerome, and Jay Pharoah. Thursday, December 19
7:30 A Christmas Carol (FX)
This BBC co-prouction comes from Steven Knight and stars Guy Pearce, Andy Derkis, Dtephen Gram, Charlotte Riley, and Joe Alwyn.
Originally created to be a three-part miniseries, the movie will now air in its entirety on one night.
8/7c Disney Prep and Landing (ABC)
For anyone who wondered what Santa's elves really do as Christmas approaches, you don't want to miss this modern holiday tale as a veteran elf gets passed over for a promotion and is saddled with an eager, idealistic rookie on a Christmas Eve mission.
9/8c The Great American Baking Show: Holiday Edition (ABC)
For anyone who loves The Great British Baking Show and for those who have never seen it, British celebrity chef Paul Hollywood teams up with a new crew to judge these eight remaining American bakers as they head back to the tent to compete in a double-header for Spice Week and Dessert Week.
You'll be checking out your recipe folder, or heading for your nearest bakery, once it's done.
Friday, December 20
The Witcher (Netflix)
The highly anticipated series adaption of the epic fantasy novels from Polish author Andrzej Sapkowiski stars Henry Cavill as Geralt of Rivia.
The first season consists of eight episodes, and a second season has already been greenlit.
8/7c I Love Lucy Christmas Special (CBS)
Featuring two back-to-back colorized episodes of the classic series, first up is "The Christmas Episode" featuring the Richardos and the Mertzes decorating the tree while reminiscing about how their lives have changed since Lucy and Ricky had Little Ricky.
Then in "Paris at Last," the Ricardos and Mertzes arrive in France, where Lucy encounters a sidewalk artist who sells multiple copies of the same "original" oil painting, and a con man who passes off counterfeit French francs which land Lucy in trouble.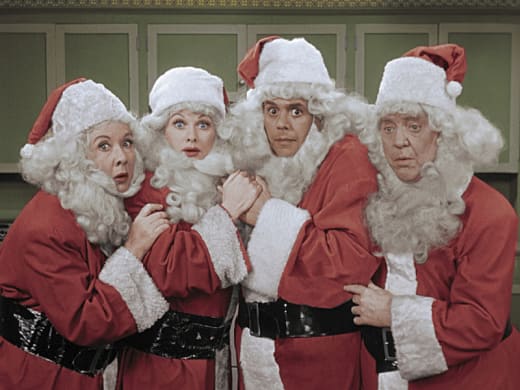 8/7c The Christmas Temp (Lifetime)
An out of work artist discovers a special Christmas temp agency that matches her with a handful of festive jobs, but falls into a creative rut while juggling holiday preparations and feelings for the agency's HR manager.
Saturday, December 21
6/5c Christmas Love Letter (Lifetime)
When relationship advice columnist Amalie Hess receives an unsigned love letter in a Christmas card, she returns to her hometown to solve the mystery of who sent it and maybe find true love. Starring Ashley Newbrough, Tilky Jones, Chanté Bowser & Izzy Herbert.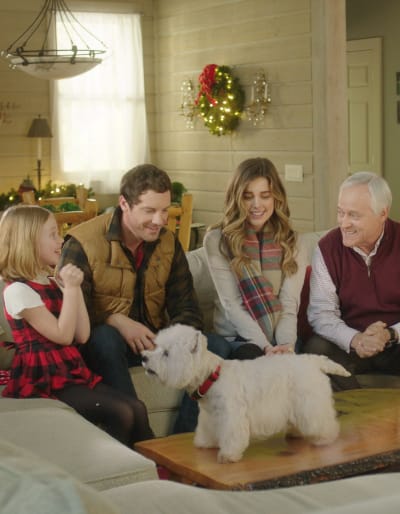 8/7c Christmas Hotel (Lifetime)
Go getter, Erin Roberts (Tatyana Ali), works at the high end Windsor Hotel in New York City hoping to soon be promoted to manager of the luxury chain's upcoming hotel in Rome.
But things take an unexpected turn when her boss instead puts her in charge of opening up a brand new Windsor Hotel in Erin's hometown of Garland Grove, a small mountain town that that loves all things Christmas, all year round.
Upon returning to Garland Grove Erin learns she has her work cut out for her as the town isn't pleased with the new chain hotel and it's up to her to find a way to get everyone on board and please the Windsor investors.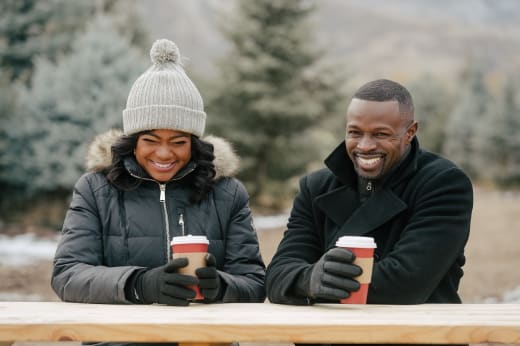 To make things more complicated the man spearheading the movement against the new hotel is Connor, Erin's childhood friend who she had a secret crush on in her youth.
When Erin decides to make the new Windsor Hotel a year round "Christmas Hotel" to win over the town's approval she turns to Connor for his knowledge in all things Christmas and the two work together to make Christmas Hotel a a magical wonderland.
Soon Erin's love for both Garland Grove and Christmas is reignited as her connection with Connor grows to new levels making her question everything she thought she wanted.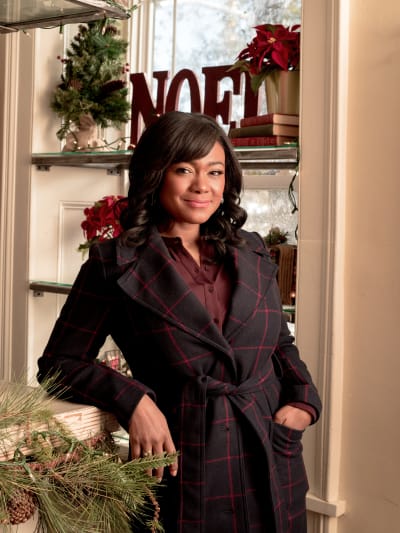 8/7c Christmas on My Mind (HMM)
A bump on the head, an unexplained wedding dress and temporary short-term amnesia lead Lucy Lovett on a search for the truth about her breakup with longtime sweetheart Zach Callahan.
She returns to Bedford Harbor, Maine for the town's Christmas celebration and rediscovers the woman she used to be, what matters most, and that a Christmas miracle can bring back love thought to be lost forever.
Starring Ashley Greene, Andrew Walker and Jackée Harry.
8/7c Double Holiday (Hallmark)
Career-minded Rebecca's plans for Hanukkah don't go as expected when a promotion opportunity comes up at work.
When the company CEO asks Rebecca and her insufferable office mate, Chris – also her main competitor for the promotion – to plan the company's Christmas party, she realizes they must overcome their opposing styles in order to succeed.
Forced to work together on the party, Chris learns more about Rebecca and embraces her family's Hanukkah traditions, while she also begins to see him in a new light. Although feelings slowly develop between the two, the ongoing competition over the promotion threatens to undermine it all.
Starring Carly Pope and Kristoffer Polaha, both of whom we'll have the chance to chat with before the premiere, so stand by for great interviews.
10/9c Ultimate Hanukkah Challenge (Food Network)
Inspired by the Festival of Lights, host Molly Yeh challenges four seasoned chefs to pull out all the stops as they craft deliciously innovative dishes for judges Duff Goldman and Sharone Hakman.
Over the course of three rounds, the chefs must put their spin on holiday classics like crispy potato pancakes, succulent brisket and fried jelly donuts.
The last cook standing wins a vacation to the City of Light, Paris, and the title of Ultimate Hanukkah Champion.
Carissa Pavlica is the managing editor and a staff writer and critic for TV Fanatic. She's a member of the Critic's Choice Association, enjoys mentoring writers, conversing with cats, and passionately discussing the nuances of television and film with anyone who will listen. Follow her on Twitter and email her here at TV Fanatic.