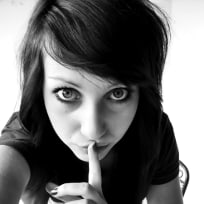 Isabel Candy Floss
I might be a girl, who you see everyday, who has a pretty normal life - but though I'm somehow different than the others. Please don't try to categorize me into one 'scene'. You just can't. I don't act after such rules. I think alot about the world, life and people. I'm honest and I'm telling my opinion. My hold are my family and my true friends. I don't need many people to be happy - it just have to be the right ones. I like to get to know new people and make friends. But I make demands. I've met too much fake persons and intrigues in my life.
I love to dance in the summer rain and just to enjoy the moment. I could browse in catalogues or watch photographes for hours. Musik and books lead me into a different world - a world I need to balance. There are days when only this world keeps me alive.
I like to experience with my hair and clothes. I'm not cursory, but fashion and style offer me a chance to show my personality.
I've a soft spot for bracelets and little, extravagant details. My tiny home village compresses me. Big cities like London or Paris, where life pulses, fascinate me. I love long, exciting nights that turn into mornings. And at the end another thing: I listen to my heart.
Isabel.            
Member Since: