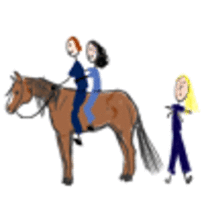 Kevin's Biggest Fan
Hello everybody!
My name is Mafalda and I live in Portugal.
I am a big fan of "Grey's Anatomy" since the first episode and i am even a bigger fan of Kevin McKidd. The first time i saw him (i think it was 5 years ago) it was in the movie "Nicholas Nickleby", where he was so cute! xD but then the tv here decided not to give more movies with him and only 2 years ago i was able to see him again in the HBO show "Rome", where he was very very sexy xP, and I absolutely loved him in "Journeyman", it was a great show and I really don't understand why it was cancelled. And when i descovered that he was going to join "Grey's Anatomy" i was really happy because he is an amazing actor.
Now, about me: I'm still a student and I love math (it's the only discipline that I have high marks). I love playing soccer and listening to music. I am completely crazy about animals, i've had a dog named Bobby (how original) and now I have a cat named Oscar. My favorite colors are blue and red and I LOVE chocolates.
Trivia: Yeah! I won my first caption contest: Grey's Anatomy Caption Contest 212
 Favourite sites:
www.fanfiction.com/tv/greys_anatomy
 - stories about our favourites characters.
www.kevinmckiddonline.com
 - for all Kevin McKidd fans.
www.shli1117.wordpress.com
 - for all Owen and Cristina fans.
 NOTE: Credit for icon used goes to http://athebeach-13.livejournal.com/
Member Since: