Watch Common Law Online
Watch Common Law Season 1 Episode 2
"Ride-Along"
Original Air Date:
On Common Law, when Wes and Travis investigate the death of a woman who was killed on her honeymoon, Dr. Ryan tags along to observe.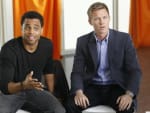 Watch Common Law Season 1 Episode 1
"Pilot"
Original Air Date:
We meet detectives Travis Marks and Wes Mitchell on this episode of Common Law. We also learn why they are sent to a couples' therapist.