Watch Happy Town Online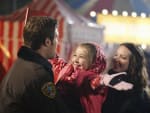 Watch Happy Town Season 1 Episode 3
"Polly Wants a Crack at Her"
Original Air Date:
An ominous hawk soars over Haplin this week, as Thaw Fest gets underway. Also, a state investigator makes his presence felt as he helps Tommy with the murder.
Watch Happy Town Season 1 Episode 2
"I Came to Haplin for the Waters"
Original Air Date:
Tommy Conroy reluctantly accepts the title of Sherriff this week. As his dad recovers in the hospital, viewers learn a lot more about the mysterious town of Haplin.