Watch Touch Online
Watch Touch Season 1 Episode 2
"1+1=3"
Original Air Date:
Martin tries to understand how the phone number Jake keeps writing is connected to a pawn shop robbery and the sequence of events that it triggers in the return of Touch.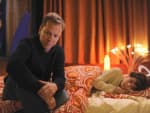 Watch Touch Season 1 Episode 1
"Pilot"
Original Air Date:
Kiefer Sutherland returns to TV on Touch, as widower Martin Bohm who discovers that his emotionally challenged, mute son communicates through numbers. Can he make sense of them in time to help shape destiny?