You didn't think Black Siren was done terrorizing Team Arrow and Star City, did you? If so, think again because Black Siren is back for more trouble in Arrow Season 6 Episode 4!
The CW has released official new promotional images for the next chapter in Arrow Season 6. The episode is titled "Reversal" and will feature Laurel Lance's evil doppelganger striking once again.
The photos also reveal that John Diggle will still be the new Green Arrow and be protecting the city. For all the Felicity/Oliver fans, guess who is going out for dinner?
But will that dinner be uninterrupted or will something or someone get in the way? You will have to tune in to find out! Be sure to catch the slideshow below and let us know in the comments if you are excited for Arrow Season 6 Episode 4!
Remember you can watch Arrow Season 6 right here via TV Fanatic! Be caught up with the Emerald Archer!
1. Will The Dinner Get Interrupted - Arrow Season 6 Episode 4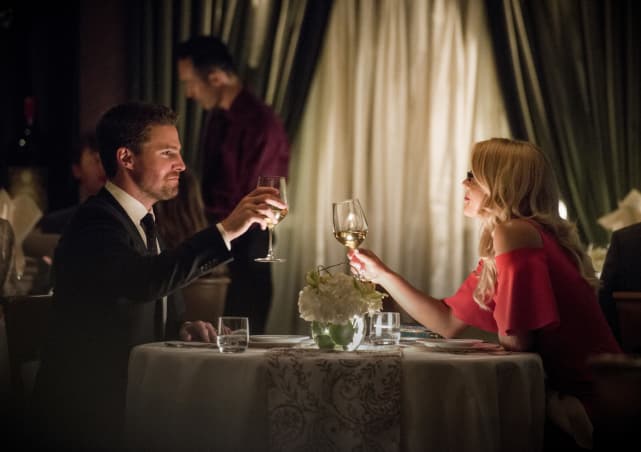 2. A Good Luck Kiss - Arrow Season 6 Episode 4
3. Can Team Diggle Handle It - Arrow Season 6 Episode 4
4. Can Felicity Get A Mask Too - Arrow Season 6 Episode 4
5. Who Is Attacking The Team - Arrow Season 6 Episode 4
6. What Is This Place - Arrow Season 6 Episode 4
Wait! There's more Arrow Photos from "Reversal"! Just click "Next" below:
Next