This week Caroline is stuck listening to some less than savory information about Stefan's past on The Vampire Diaries, and Joe West shares some similarly bad news about his past with Iris' mother with his daughter.
There are quotes about Taylor Swift, zits, mice and just how obscene googling can sound when you stop to think about it.
Find out what else was rockin' the small screen when you scroll through the quotables photo gallery for the week ending Thursday, October 22, 2015!
1. The Vampire Diaries
I just spent my day reliving Stefan's first time. I really don't feel like talking about my dead mother with my hostage taker. But thanks.

Caroline
2. Reign
Mary: You and I are...we're not just royalty. We're more than an alliance. We're different. We love each other.
Francis: And we always will.
3. Blue Bloods
Touch that horn one more time and I'm gonna feed you the steering wheel.

Eddie
4. Doctor Who
Ashildr: You think they're all idiots, don't you?
The Doctor: What, you mean the rest of the universe? Basically, yes I do.
Ashildr: But they're kind and brave and strong. And I love them.
The Doctor: Good, but that won't save you.
5. The Leftovers
Laurie: Why are we losing?
Tom: Because they're giving them something. I mean, we can strip it away, but once it's gone? We have nothing to put back in its place.
6. Homeland
Carrie: The point is that the meds have saved my life, literally, but something is lost, too.
Jonas: The elation.
Carrie: It's more than that. There's this window, when you've got all this crazy energy, but you're still lucid, you're still making sense and that's always when I did my best work.
7. Brooklyn Nine-Nine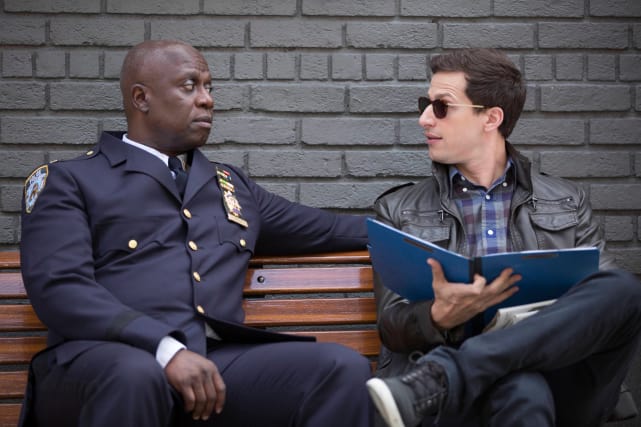 Charles: You're looking a little fat.
Terry: How dare you. You can't comment on my body, this is a workplace! Now I'm feeling objectified by your male gaze!
Charles: Please, just listen, sir.
Terry: I will not listen! You are trying to shame me and that will not fly!
8. One Upon a Time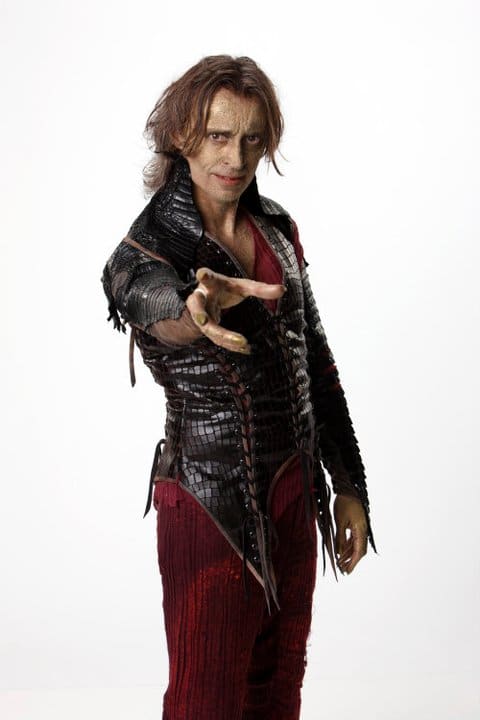 Be careful. Love is a weapon, Deary. The most dangerous weapon of all which means the pain you should worry about isn't the kind inflicted by a broken sword but the kind that comes from a broken heart.

Rumplestiltskin
9. Blood and Oil
This is the oil business. They don't hand out trophies just for playing the game. For every gusher there's a thousand dry holes. And for every me, there's a million you. That's the way it works.

Hap
10. Gotham
Bullock: Half of good police work is the ability to sit on one's ass when it's called for.
Gordon: If that were true, you'd be commissioner.
11. Satisfaction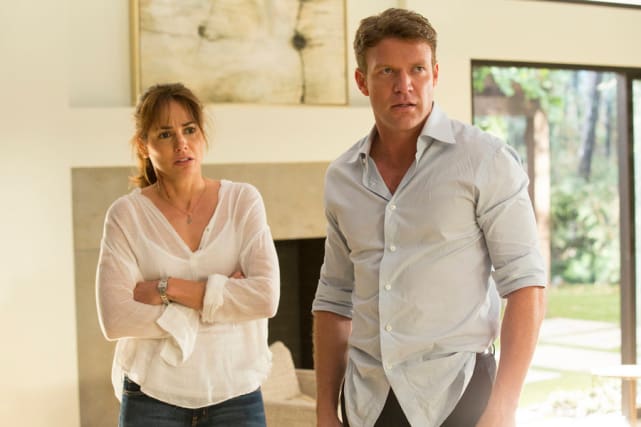 Adriana: It's been my experience that when things explode, people land where they were meant to land. You needed to be free, darling. Free of all the secrets, the lies. Now you can truly have anything that you want.
Neil: I want Grace! I want my life back!
Adriana: I'm not so sure. You had you're wife, Neil. Apparently, she wasn't enough.
12. Madam Secretary
Daisy: Face it, you're a people pleaser.
Blake: Actually I hate most people. It takes all of my skill to hide that.
13. The Big Bang Theory
You had me at flag, lost me at football.

Sheldon
14. Scorpion
Toby: What are you doing?
Happy: I'm taking my pants off.
Toby: Dear diary, it finally happened.
15. You're the Worst
My childhood home had mice. I thought nothing of it. One day my mate Daniel spent the night and he woke up to a mouse chewing on his nipple. From then on everybody called me Mouseboy. My dad even. And it was his disgusting house...

Jimmy
16. Fargo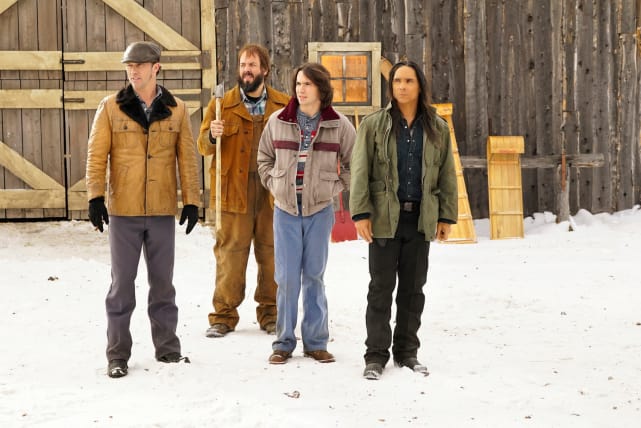 Dodd: Are you listening to me? [to Hanzee] Is he listening to me?
Hanzee: You cut off his ears.
Dodd: Wake him up.
Hanzee: He's dead, I think.
Dodd: Weak.
17. Castle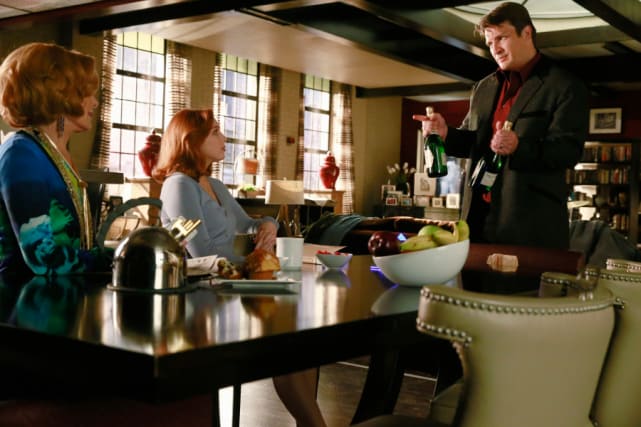 Martha: Off, Off Broadway.
Richard: Mother, that was New Jersey.
Martha: Off, Off Broadway, as I said.

18. Jane the Virgin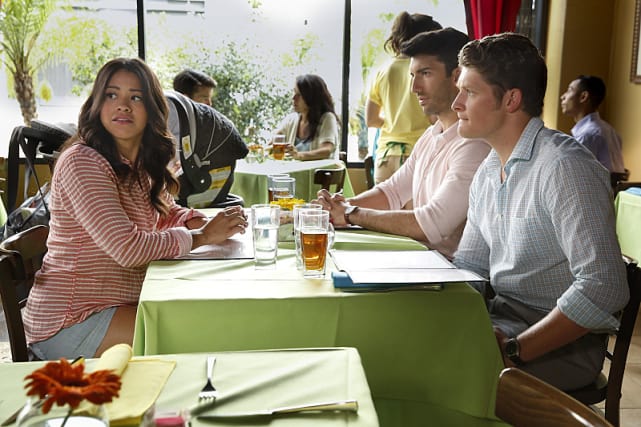 Jane: Are you ready? Because you weren't when I was pregnant.
Michael: Come on, it was pretty shocking. We were engaged. It wasn't mine.
Jane: I know.
Michael: But it's not some theoretical baby anymore. It's Mateo. So yeah, I'm in.
19. The Flash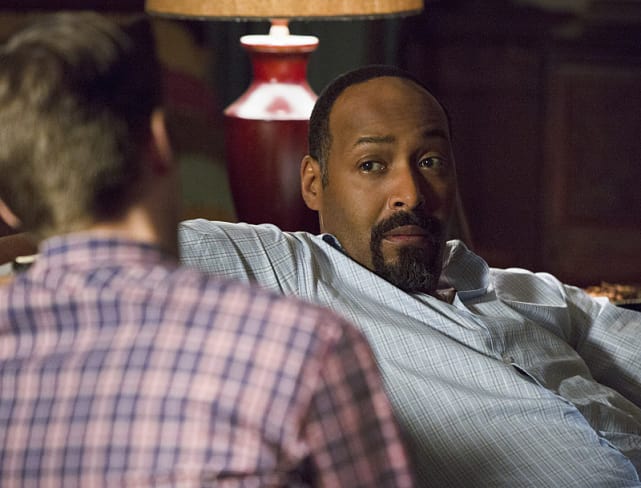 When I still a beat cop, me and my partner were on patrol, and dispatch came on the radio. A little girl had called in. She said her mom had taken some pills, and she wouldn't wake up. The little girl gave the address. The address was mine.

Joe
20. Grey's Anatomy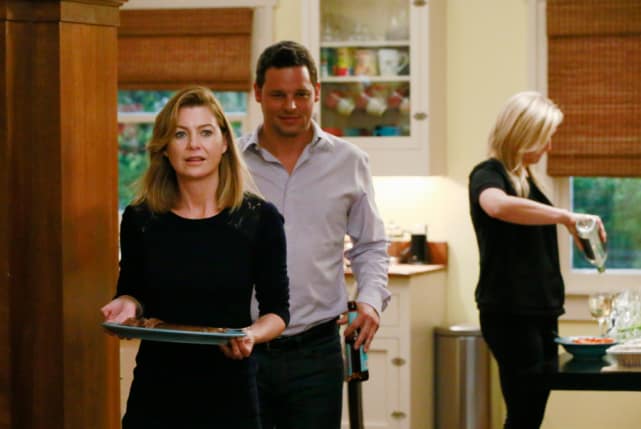 Did he say anything to you before you killed him? Can you tell me what his last words were?

Amelia
21. How to Get Away with Murder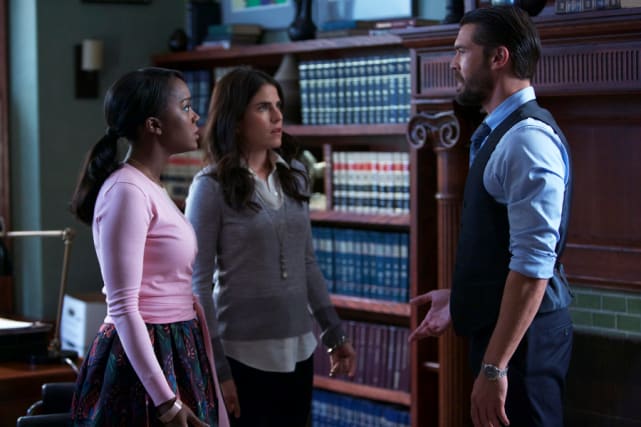 Annalise: You want to know the truth? Asher was going to testify against everyone in this house, so Bonnie told him that she killed Sam in order to save your asses! Because that's what we do around here. Ruin everyones lives to save yours. Nate's, mine and now Bonnie's. Who's next, huh? Whose life do you want to destroy to stay free?
Michaela: Why didn't you just tell us?
Annalise: Because I'm trying to protect you like always. When are you gonna finally accept that?
22. The Bastard Executioner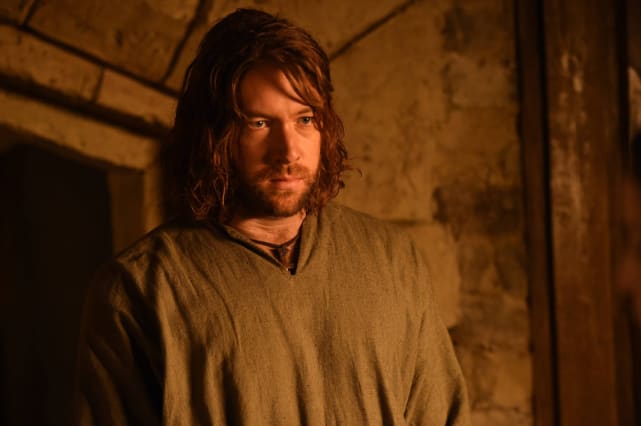 It seems you and the good baron share a deep, poetic connection. It's as if you were reading each other's thoughts. And perhaps writing them down and rehearsing them as well.

Baroness [to Milus]
23. Scandal
We're going to take what the public views as a cheap and tawdry affair between the President and his former communications director and we're going to spin it into the greatest love story ever told. Olivia and Fitz, a love like no other.

Leo
24. The Affair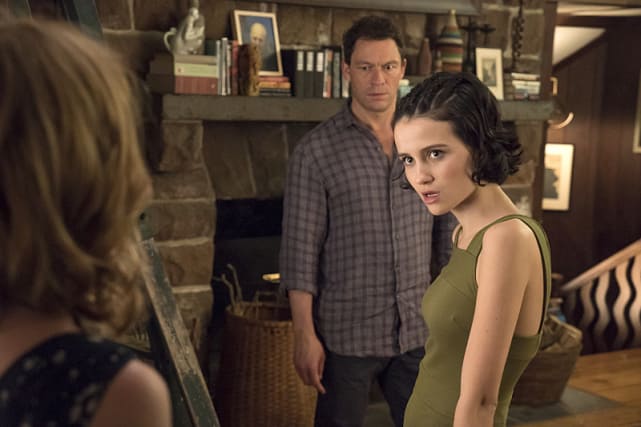 Being alive is essentially a very lonely proposition. You have to mostly carry your pack alone. Nobody gets as much help as they need. But in marriage, things get less lonely, just a little, but it makes a big difference.

Robert
25. The Grinder
Dean: You can find pretty much anything if you dig deep enough, and it was you who made me realize I like to dig deep.
Claire: Oh, gross.
26. The Blacklist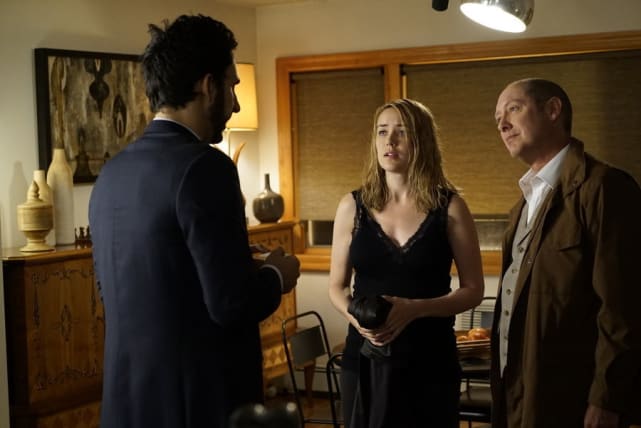 Is it just me or is the human race armed with religion, poisoned by prejudice, and absolutely frantic with hatred and fear, galloping pell-mell back to the Dark Ages? Who on Earth is hurt by a little girl going to school or a child being gay?

Red
27. Quantico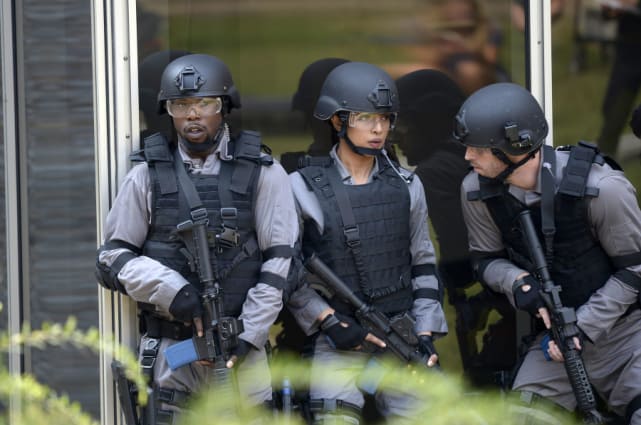 We don't want to see what you do on your best day. We want to see what you do on your worst because when the stakes are this high, one moment can change everything. Let's see who you are when it's due or die. Will you freeze or will you fight?

Miranda
28. The Last Man on Earth
What are you doing, Tandy? You care about these people. You're not gonna risk your relationship with them over some INSANELY delicious cheese! [inhales cheese; weeps] I'm not strong enough. No! You're better than this. Their friendship is worth way more than this cheese. Get back in your hole.

Phil [to himself]
29. Public Morals
Well, let me put it this way. There are the laws, and there are the rules. And over time, you will learn to identify the difference.

Terry Muldoon
30. iZombie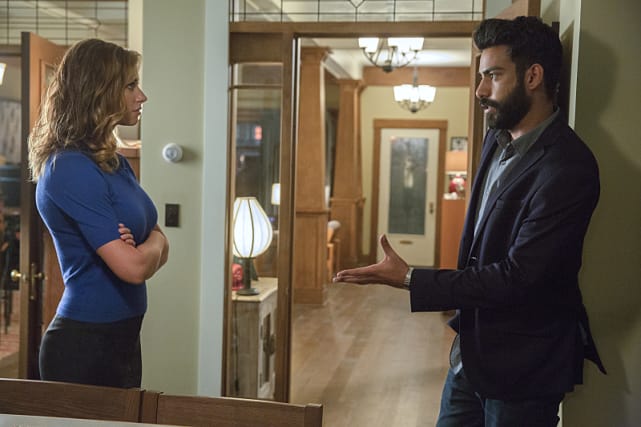 If only contract killers filed W-4s.

Ravi
31. Chicago Fire
Jimmy: What's Molly's?
Hermann: Molly's? It's the best damn refuge in this city. A salt of the Earth kind of joint where we serve cold comfort to red-blooded Americans.
Jimmy: So a bar?
32. NCIS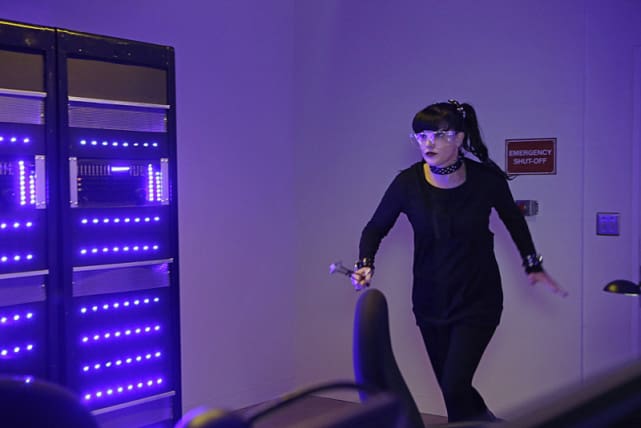 Gibbs, this is Janice. She's my new friend. She helped saved the lives of the hostages. And you can arrest her now, cause she's working with the bad guys.

Abby
33. Scream Queens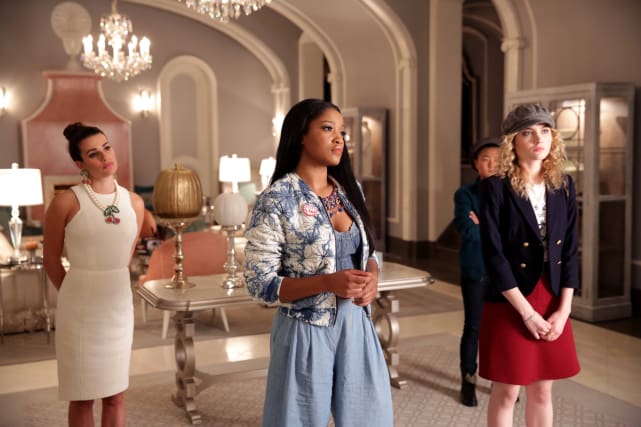 I'm sorry, the game's pretty damn simple, okay? It's truth OR dare. Alright? If you pick truth, you have to tell the truth; if you pick dare, it's gonna be really suspicious and I'm gonna think you had something to do with my sweet bro Boone dying and my rad bro Caulfield getting his arms and then his head chopped off!

Chad
34. NCIS: New Orleans
Ross P.: I'm really tryin' to walk on the straight side of the street here. I mean, a leopard can change his stripes, huh?
LaSalle: Only problem with that is leopards have spots.
Ross P.: Change those, too!
35. Agents of SHIELD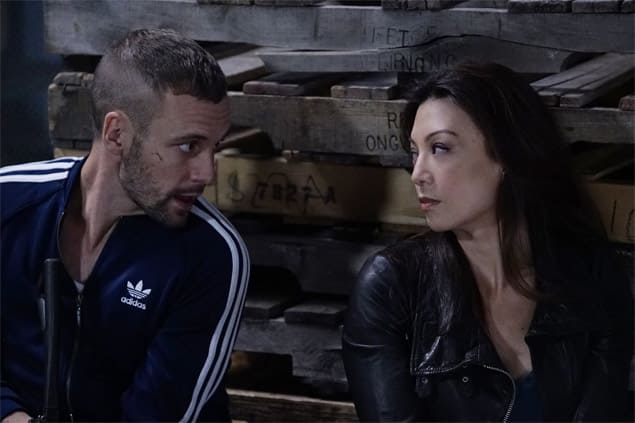 Coulson: Where are you taking the victims?
Rosalind: That's classified. Oh, it's not fun when it's you, right? Can't believe I just said that to the Director of S.H.I.E.L.D.
Coulson: You know, I'm really not feeling the spirit of cooperation here.
36. Arrow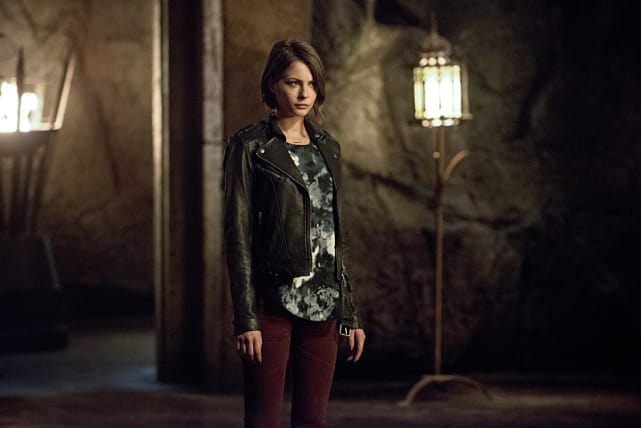 Malcolm: The Pit contains traces of the souls of all the men and women who have bathed in its waters. What those waters can restore, they can also take. Life for life.
Thea: What are you saying?
Malcolm: That you need to feed this impulse, give in to it. If you do, it will subside for a time. Once you do, it will subside for a time.
Wait! There's more Quotables for the Week Ending October 22, 2015! Just click "Next" below:
Next