24: Legacy Producers on Eric Carter v Jack Bauer, Post Super Bowl Slot & More!

Carissa Pavlica at . Updated at .
We had the opportunity to sit with the executive producers of 24: Legacy at New York Comic Con this past fall.
We have the full chat with Evan Katz, Howard Gordon and Manny Coto in the video below.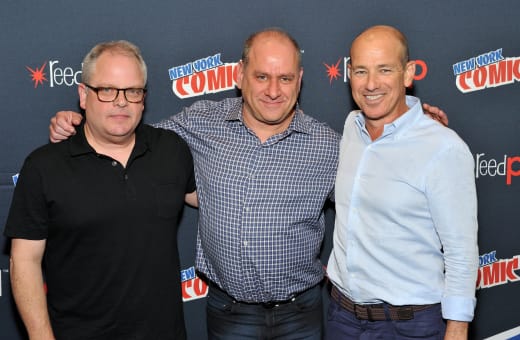 During the discussion they express their feelings on Jimmy Smit's presence being one of his qualifications as President, and share thoughts on the past presidents from other installments of 24.
Co-star Miranda Otto, too, has the weight, intelligence and complexity to bring a natural feel to her role.
But what about Corey Hawkins? They talk about whether he's prepared for 24 mania and the rabid fandom that comes from starring on a TV show versus what he's experienced from his starring turn in Straight Outta Compton.
They also discuss Hawkins' classical training and his grace as a performer, which lends itself to his undeniable charisma.
As to how the audience will compare Hawkins' Eric Carter to Kiefer Sutherland's Jack Bauer?
You might be surprised at how this trio responds, and it's not a topic you want to miss. 
One of the bigger questions is also answered during this interview.
If you've never seen the former series of 24, will you be lost going into 24: Legacy?
Not at all, and Katz, Coto and Gordon give you the details why this new story will be a great point to jump into the world of 24.
Is there anyplace else you will be with your friends after the Super Bowl LI?
Keep an eye on TV Fanatic for interviews with Corey Hawkins, Jimmy Smits and Miranda Otto, as well, and be here Sunday evening for a full review of 24: Legacy Season 1 Episode 1 after it airs!