A Million Little Things Promo: Whose Baby Is It?!

Jasmine Blu at .
The cat is out of the bag among the friends, and the question on all of their minds is "Who is Delilah pregnant by?" 
On A Million Little Things Season 1 Episode 5, the friends put forth a valiant effort to move past their differences and hurt and stand strong and united with one another. 
For the most part, all was well among them, and it almost felt like things were as close to normal as they could be, given the circumstances. By the end of the hour, however, their worlds were rocked over the discovery of a pregnancy test.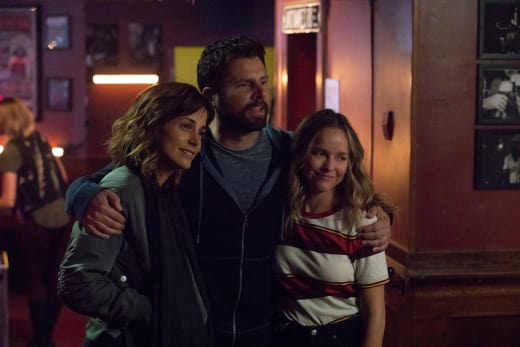 Regina told Rome that Delilah is pregnant. On A Million Little Things Season 1 Episode 6, the others try to determine who Delilah may be the father. 
They know that Delilah and Eddie were having an affair, but it's unclear as to if Delilah was active with Jon before he died too. No one dared asked. 
Related: A Million Little Things Season 1 Episode 5 Review: Game of Your Life
Delilah appears relieved when Regina tells her that Rome assumed it was hers, but she was right back to tense when Regina confessed that she told her husband the truth. What else was she supposed to do?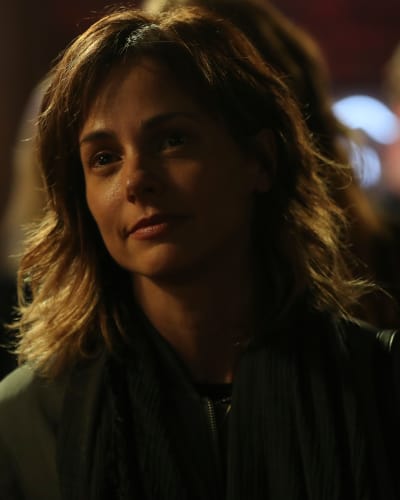 With everyone in the group aware of the circumstances, one can only hope that Delilah breaks the news to Eddie before anyone else. He has a right to know the truth, but how will this news affect him? 
There is too much at play for all of them. Eddie and Katherine have called it quits for good, and they left things on a decent enough note, but how will that change when Katherine learns the truth? 
Katherine is having a difficult enough time coping with the affair, and now a baby added into the mix will have a direct impact on her and Theo. 
Eddie's life is a mess right now, and he's trying to get back on his feet again. He's attempting to perform again, but he has never performed sober before. 
Eddie has been struggling to remain sober since Jon's death, and with so many stressors and changes in his life, it's only getting more difficult for him. 
He sought Gary's help, as Gary is seemingly stepping into Jon's place as the confidante, but will that be enough for Eddie? 
If and when he finds out the truth about Delilah, and he is shut down again if he attempts to cling to her and the idea of starting a family after the news, then it may be the last thing that pushes him towards relapse. 
Related: Get PBS Masterpiece via Prime Video Channels for World-Class British Dramas & Award-Winning Series
It may be time to be concerned for Eddie's well-being. He's dangerously close to falling off the wagon, and the truth about Delilah may push him over the edge. 
Delilah will have issues of her own when Ashely returns. It looks as if Ashley may give Delilah the suicide note that Jon left for her. 
It took long enough, and we still don't know why Ashley held onto it for so long. As you can imagine, Delilah is livid, and she has every right to be. 
But the question is, did Ashley give her everything in the note or only part of it? Ashley insists on keeping secrets from the others, and it's hard to say if she's protecting Jon or causing harm to the rest of his loved ones. 
Related: A Million Little Things Scores a Full-Season Pickup at ABC!
The mystery behind what Jon was into and what Ashley has been doing all this time, may be revealed, at least some of it may be. After taking a hiatus from the mystery element of the series, it will be welcome with open arms.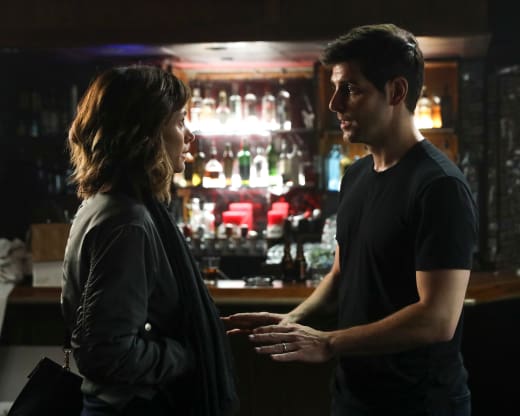 Meanwhile, Rome has had his session with Heller, and he's taking the anti-depressants, but will he ever tell Regina the truth? 
Whose baby do you think it is? What are your thoughts on this development? Are you thrilled that Ashley is returning? 
Check out the promo below, and hit the comments! 
You can watch A Million Little Things online here via TV Fanatic!