American Horror Story: Apocalypse got underway Wednesday night, and while the opener was excellent, there was a striking omission: 
The witches!
Thankfully, American Horror Story Season 8 Episode 2 will focus on the witches from American Horror Story: Coven making their way into Outpost 3.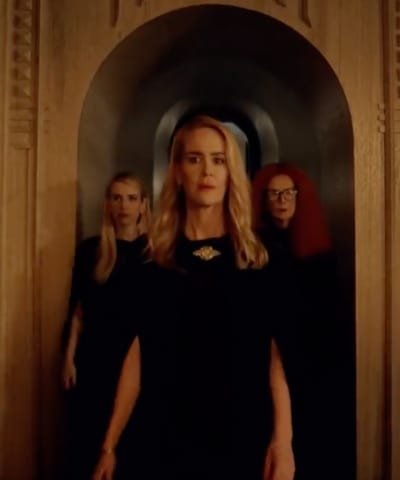 Oh yes, TV Fanatics! Myrtle, Madison, and Cordelia make their way inside, and it sure looks like they have no idea what the heck they've just walked into. 
As you will recall, if you watch American Horror Story online, the premiere concluded with Michael Langdon (Tate and Vivien's son) showing up in Outpost 3 and essentially telling Wilhemina Venable that they would be following his rule. 
Related: American Horror Story Slumps to Lowest Rated Premiere Yet
This will surely pave the way for some more horror as a power struggle between the pair ensues, and with the Coven witches thrown in, it's going to shake things up. 
Cordelia has never been a villain, so we think it's fair to say that she's going to be along to restore the balance between good and evil, and that will involve taking Michael out of the equation. 
This would not be AHS without some crazy twists thrown in for good measure, so we'll need to tune into the episode when it airs on Wednesday to find out what's going on. 
For now, watch the full clip below and hit the comments with your thoughts on it!
Show:

Tag:

Network:

Episode:

Related Videos:

Related Post:

Uploaded by:

Uploaded:

Duration: