American Horror Story Promo: Welcome, Emma Roberts!
Paul Dailly at .
Kai's reign of terror is just getting started, and he has some brand recruits to go along for the ride with him. 
On American Horror Story Season 7 Episode 4, he will recruit Harrison who is going to be out for blood after thinking Ally was the one who murdered Meadow.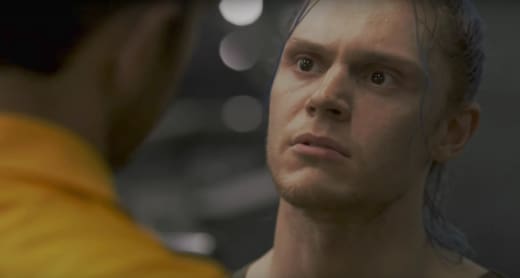 If you watch American Horror Story online, you will know that Ally threatened to murder Harrison and Meadow if they went near her family ever again. 
A matter of scenes later, Meadow ended up dead. Viewers also got to see Harrison working out some deal with Kai, but would it be too easy to assume Meadow's husband was the one to kill her?
Either way, the episode finds Harrison on a journey of self-discovery and said journey is poised to include him murdering someone. 
On top of that, Winter looks set to get in on the killing, so we're in for another crazy episode of this FX smash. 
Emma Roberts will also make her first appearance on the show since American Horror Story Season 4, so that should be fun. Will she be playing a similar role to any character she's played before?
That remains to be seen, and we are very excited for it!
Finally, Beverly Hope is doing some things she probably shouldn't be. 
Have a look at the full promo below to see it all for yourself. Hit the comments with your take on what will happen. 
American Horror Story airs Tuesdays on FX!