Oliver Queen may be going to jail. 
On Arrow Season 6 Episode 21, he will attempt to sway the jury to think that he is not the Green Arrow, but that will be easier said than done. 
With Diaz in power and a dirty police force working against the good guys, Oliver's days as a free man could well and truly be numbered.
This hour will also feature the return of former series regular Colin Donnell who played Tommy Merlyn earlier in the show's run. 
Obviously, the chances of it being the Earth-1 iteration of the character are slim, but stranger things have happened on Arrow. 
The more likely scenario is that Human Target could be posing as Tommy to take the heat off Oliver. Will the residents of Star City be able to get on board with whatever story is cooked up?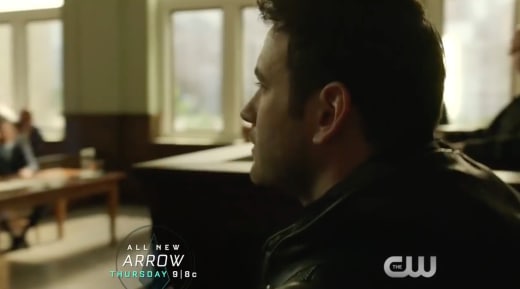 It was just a few episodes before that Laurel Lance seemingly returned from the dead. In any case, we'll need to tune in to find out how it all plays out. 
Nobody will want Oliver to go to prison, but we're sure Barry could give him a few pointers because he took a trip there earlier on The Flash Season 4. 
Okay, Arrow Fanatics!
What are your thoughts on Colin Donnell returning again? Who do you want him to play?
Hit the comments below. 
Remember you can watch Arrow online right here via TV Fanatic. Get caught up with all the twists and turns right now. 
Arrow continues Thursdays on The CW!