Put your seatbelt on, guys, it's going to be a bumpy ride.
Norma says as much to Norman in the latest trailer for Bates Motel Season 5.
All I can do at this point is keep my fingers moving across the keyboard, because the excitement is mounting for this final showdown between a boy and his mother, and it looks fantastic.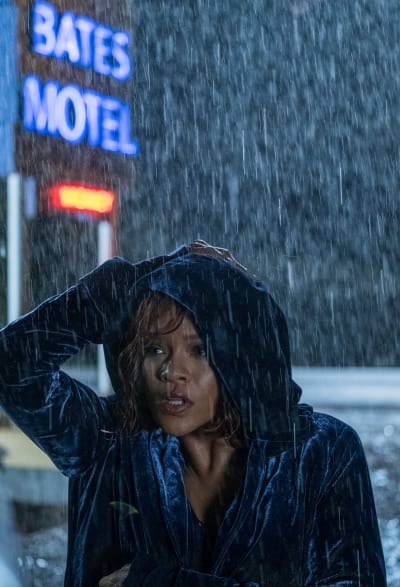 Of all the motels in all the world, why did Marion Crane choose Bates Motel on that stormy night?
It was her destiny.
These photos and the video below are the first look at Rihanna staring as the unforgettable character, and from what we've heard, about as close to the movie Psycho as Norman will ever become. 
Does that mean Rihanna is in for a shower scene to end all shower scenes? God help her.
There's nothing in this trailer that disappoints, and while seeing Marion and Norman lock eyes for the first time is a spine-tingling sight, there is a lot more coming our way.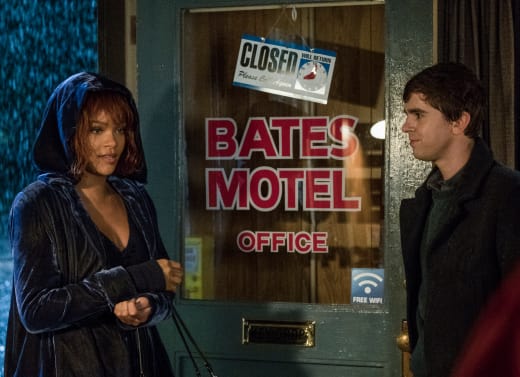 Dylan is back and trying to get his little brother to move out of the big, rickety house on the hill. What are the odds he'll stumble upon the shrine in the basement?
It wouldn't be the first time Dylan poked around in Norman's belongings.
Whether Dylan's calls in his dad for reinforcement or Norman's brother just comes looking for his beloved sister, he's back, as well.
I wouldn't want to be in Norman's shoes when Caleb realizes that Norma dead and her body missing.
Certainly somebody noticed the giant hole Norman left behind in the cemetery and rallied the troops, right?
Chick has gone all Viking on us, and appears to be setting a tiny little body on fire in the lake. Does it have anything to do with the bodies the sherriff found there?
And then there's our magical and tragic widower who vows to get Norman.
Is that where we'll get our happy ending?
Norma doesn't get a happy ending in the film, but maybe,  just maybe, with all the men who grew to love the woman we came to know during Bates Motel, we'll see her afterlife play out a little differently.
Watch the trailer below, watch Bates Motel online if you've been lax in viewing so far, and then be here on February 20 to watch with us the premiere and chat about it afterwards.
Who can't sit still with the anticipation?!