You've seen our exclusive with Criminal Minds: Beyond Border stars Gary Sinise and Alana De La Garza, right?
They're very excited about what's ahead in the new season because we'll finally get to know more about their characters as people.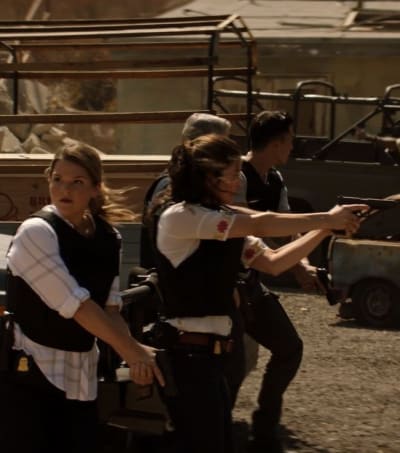 While the first season was all about setting the tone of the show and how it fits in the overall Criminal Minds world, Criminal Minds: Beyond Borders Season 2 will bring you into the lives of the agents who save the lives of those you love when they're in trouble overseas.
Criminal Minds: Beyond Borders Season 2 Episode 1 starts out with the best of intentions and hits very close to home for Jack Garrett. 
His 14-year-old-son is asking to go overseas to volunteer with the church, much as he watched his father do while growing up.
When he's called to a case involving a group of missing overseas volunteers much like those his son wants to accompany, you can imagine Jack's horror.
The team springs into action and in the clip below, you'll see why there's nobody else you want on your side when things go wrong.
Matt Simmons tackles a man who just might have the answers.
And we'll have an interview with Matt Simmons himself, Daniel Henney, tomorrow so be sure to keep in touch with TV Fanatic for the latest in CMBB news.
And the best of all comes when Jack finally gets a word.
Trust me, you don't want to miss this one because you will not believe where the Americans are, nor how they got there.
It a great way to start the season and finally learn more about this tremendously talented team of agents!
We're on our way to a Criminal Minds double feature again Wednesday nights with the pairing of Criminal Minds and Beyond Borders.
It's going to be intense!!
Check out the clip below and let us know if you're going to be watching the double header as the two series once again air back to back. Which character do you most want to know more intimately? 
Drop us a comment, and don't forget to return tomorrow for our interview with Daniel Henney.
Criminal Minds: Beyond Borders returns Wednesday, March 8 at 10/9c!
Show:

Tags:

Episode:

Related Videos:

Related Post:

Uploaded by:

Uploaded:

Duration: