Criminal Minds Sneak Peek: From Drivers to... Killers?

Carissa Pavlica at . Updated at .
The upcoming hour of Criminal Minds looks like it's going to be downright horrifying to watch.
Sometimes, it's difficult to put ourselves into the shoes of the victims, but it won't be too hard with Criminal Minds Season 12 Episode 14.
The sadistic unsub featured during this hour will featuring a two-layered approach to his criminal activity.
His condition is one that gets him off by witnessing terrible things happening to other people, such as fires, and in this case, car accidents.
Since he can't be the one to create the accident and watch it at the same time, he's concocted a way to turn innocent drivers and their cars into powerful killing machines.
He even has a "final" victim type in mind, one that makes the team suppose he's out for vengeance against a certain individual.
The crime deserves a specialized touch, and that touch earns Garcia her wings. She doesn't do it too often, but she's on the plane when it goes wheels up.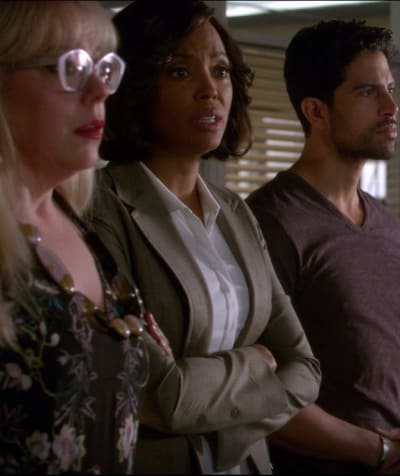 When your everyday devices suddenly become weapons controlled by killers and used to kill, threre's nobody else I'd rather have on my side than Penelope Garcia.
Who's with me?!
You'll also note by watching the exclusive clip below who is not with the team as they hunt down this terrifying unsub – Prentiss.
That's because Prentiss is off dealing with Spencer, who will receive a bit of bad news during the hour.
Considering where he was last we saw him, is it safe to guess he's not going to be released from custody as soon as expected?
To find out, you'll have to watch.
But first, get more insight about what to expect of the unsub and his evil ways when you take a look at the clip below.
It reveals a good bit about the unsub and what's happening to both levels of his victims. If ever there was a time for "this show may contain disturbing content" to appear across the screen, it's now.
So be warned!
And if you need more info on where Spencer will be, you can watch Criminal Minds online to get caught up on his latest...ahem...adventure!