Fabled Official Tribeca Film Festival Trailer: "Anodyne" Independent TV Pilot

Carissa Pavlica at .
Fabled, produced by Zosia Mamet (Girls), Evan Jonigkeit, Alex Gayner, and Refinery29, is an anthology series that distorts the traditional fairy tale narrative, taking on characters' age, race, sexuality, gender, and relationships.
Through the beauty of the American landscape, each episode focus on a female protagonist finding the strength to become herself by discovering the depths of personal agency.
Related: Get Starz via Prime Video Channels for Captivating Original Series & Hit Movies!
Fabled tells the story of American grit that has defined the country from generation to generation through featured and capable "princesses."
Each narrative will explore the way in which female dynamics have changed over time and asks new questions of known and beloved characters to better understand the female experience.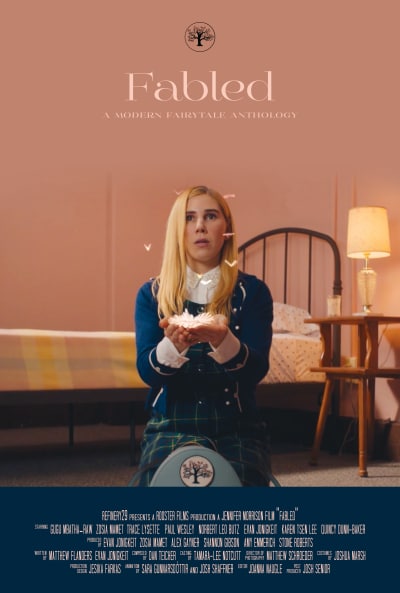 The episode being shown at the Tribeca Film Festival will be titled "Anodyne," directed by Jennifer Morrison (Once Upon a Time), written by Mamet and Evan Jonigkeit and starring Mamet,Gugu Mbatha-Raw, Norbert Leo-Butz, and Paul Wesley (The Vampire Diaries).
The story of Anodyne considers the idea: What if Alice from Alice in Wonderland crossed paths with Dorothy from The Wizard of Oz? The heroines in this story, Allie and Dee, answer that question.
Related: Tribeca: Festival TV Highlights Include Trayvon Martin Doc, Westworld Premiere, Paul Wesley Pilot
Allie and Dee are both creative young women that blaze their own trails and stray away from societal norms. They crave adventure and dream bigger than what the world tells them is acceptable.
After meeting at an extensive behavioral therapy center, they find solace and fortitude in one another. Their bond illustrates the strength of friendship and the power that women can harness when they come together.
Tribeca Film Festival Screenings:                              
Public Screening #1: Monday, April 23rd at 6:45pm // Cinepolis 02 (CIN-02)
Public Screening #2: Wednesday, April 25th at 6:15pm // Regal 01 (RGL-01
Refinery29 is the leading next-gen media and entertainment company focused on women with a global audience of 550 million across all platforms. Their mission is to be a catalyst for women to feel, see, and claim their power by providing optimistic and diverse creativity, storytelling, and unconventional points of view.
Will anyone in the New York area be trying to find tickets to this one? If you do, be sure to report back with your thoughts!