Fanatic Feed: Two Renewals, a Premiere Date and an Underground Legend!

Carissa Pavlica at .
We have news from Starz, History Channel, Fox and WGN America.
All of it is wonderful!
Starz announced today that the highly-anticipated eight-episode first season of their original Series American Gods, adapted from Neil Gaiman's acclaimed contemporary fantasy novel, will make its network premiere on Sunday, April 30th at 9/8c. 
Starz also debuted the U.S. key art, which you can see below.
Both announcements come ahead of the World Premiere and extended Q&A of the series at SXSW in March. The series will debut publicly at the festival on March 11 at 11c at the Vimeo Theater in the Austin Convention Center followed by an extended Q&A moderated by KCRW's Elvis Mitchell.
Showrunners and cast in attendance will include Bryan Fuller, Michael Green, Ricky Whittle, Ian McShane, Emily Browning, Pablo Schreiber, Crispin Glover, Yetide Badaki, Bruce Langley, Orlando Jones, Jonathan Tucker and Betty Gilpin.
American Gods posits a different kind of war brewing—one between Old Gods and New.
The traditional Old Gods, with mythological roots from around the world, fear irrelevance as their believers die off or are seduced by the money, technology, and celebrity offered by the New Gods.
Shadow Moon (Ricky Whittle) is an ex-con who, left adrift by the recent death of his wife, becomes bodyguard and traveling partner to conman Mr. Wednesday (Ian McShane). But in truth, Mr. Wednesday is a powerful old deity, on a cross-country mission to build an army and reclaim his lost glory.
History has renewed Six for a 10-episode sophomore season two weeks ahead of the series' freshman finale.
"Six is a captivating drama series that embraces our recent history while being immensely relevant in the climate of today's culture," said Jana Bennett, President & General Manager of History.
"It has struck a genuine chord with our audience and we're proud to continue to tell the courageous stories, both on and off the battlefield, of the complex lives of this elite military group."
The eight-episode first season of "Six" follows members of Navy SEAL Team Six, modern American warriors, whose covert mission to eliminate a Taliban leader in Afghanistan goes awry when they uncover a U.S. citizen working with terrorists.
Inspired by real missions, the series captures the inside world of America's elite Special Operations unit – what these SEALs do, their personal lives, combat and the life-and-death decisions they make to protect and serve their country.
With only two episodes remaining this season, you can watch Six online to catch up.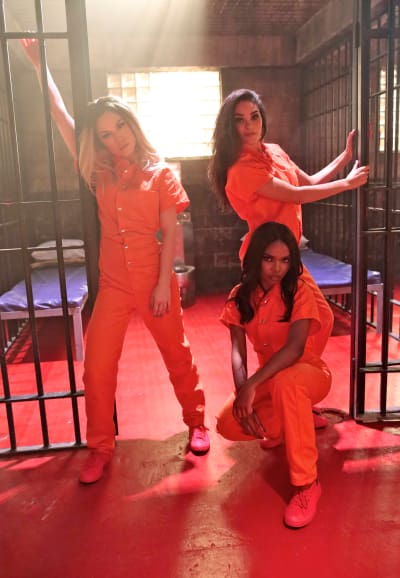 Star was renewed by Fox for a second season. Dave Madden, President, Entertainment, Fox Broadcasting Company made the announcement.
"Lee Daniels is a true visionary and he and Tom Donaghy have delivered a series with a unique and meaningful point of view," said Madden.
"Our incredible cast, led by Queen Latifah and Benjamin Bratt, instantly infused their characters with tremendous depth and passion, and the show has proved to be both powerful and really entertaining. We are thrilled that this STAR will continue to shine for a second season."
Star is an emotionally powerful drama that follows three talented singers – running from their pasts and desperate for a new start – with ambitions of stardom, as they navigate the cut-throat music business. The series features Queen Latifah, Benjamin Bratt, Jude Demorest, Brittany O'Grady, Ryan Destiny, Amiyah Scott and Quincy Brown.
There are only three episodes remaining this season, so be sure to watch Star online to catch up!
The highly anticipated second season premiere of WGN America's hit series Underground, will feature a new, original song from series executive producer John Legend entitled, "In America," which fans can enjoy in a trailer released today by the network.
By tweeting #UndergroundWGN, fans will automatically unlock a :60, extended version of the trailer that includes the song preview. The season two premiere of WGN America's Underground, debuting Wednesday, March 8 at 10:00 p.m. ET/PT, will also feature Beyoncé's Grammy-nominated smash single "Freedom."
Academy Award and Golden Globe winner and ten-time Grammy Award winning singer-songwriter Legend, who serves as executive producer on the show, will also make a guest-starring appearance as renowned abolitionist Frederick Douglass in the upcoming second season.
The series follows an unremitting struggle for freedom within a divided America on the brink of civil war.
Set in the aftermath of the Macon 7's daring attempt to stage the greatest escape in history, this group of American heroes continues on their harrowing journey to freedom, with legendary abolitionist Harriet Tubman blazing the trail.
The celebrated Underground cast includes: Jurnee Smollett-Bell, Aldis Hodge, Jessica de Gouw, Alano Miller, Christopher Meloni , Amirah Vann and Marc Blucas.
Additional guest stars this season include Aisha Hinds in the pioneering role of Harriet Tubman and John Legend as renowned abolitionist Frederick Douglass. Additional guest stars include Bokeem Woodbine, Jasika Nicole, DeWanda Wise, Michael Trotter, Jesse Luken and Sadie Stratton.
To see the full song of the preview video below, follow this tweet and retweet as indicated! 
Tweet #UndergroundWGN to reveal an exclusive new music video for Season 2 featuring John Legend's song "In America"! https://t.co/Uk1pF0XfFA

— Underground (@UndergroundWGN) February 23, 2017