Feed the Beast Exclusive Clip: A Perfect Opening Night

Lee Jutton at . Updated at .
The spirit of Tommy Moran's dearly departed wife, Rie, looms large over the debut season of Feed the Beast.
Her death in a car crash left her son mute and her husband a depressed alcoholic, and the restaurant they dreamed of opening with their friend Dion is relying on mob money to become a reality.
Rie's life – and death – have deeply impacted the people around her, yet the only glimpses we have gotten of this pivotal character have been through all-too-brief flashbacks.
That promises to change in the next episode of Feed the Beast, Feed the Beast Season 1 Episode 5, "Gimme a T," airing on Tuesday, June 28.
In this exclusive clip, we see Tommy and Dion visiting Rie's grave to commemorate her birthday.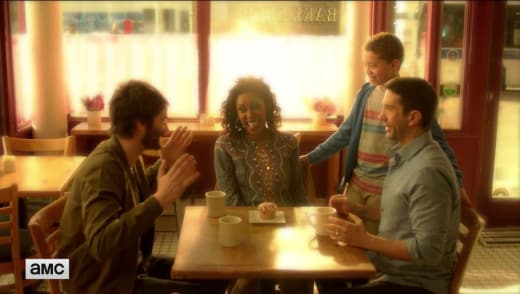 Tommy has a hard enough time controlling his rage and sadness over the loss of Rie on an average day, let alone her birthday, so this promises to be a rough episode for everyone involved.
Tommy is struggling to get through this special day for the first time since Rie died, and it's clear from this clip that his mind is firmly stuck in the past and what could have been.
Instead of celebrating the date of her birth, we see Tommy and Dion marking the occasion by leaving flowers at Rie's grave – a literal marker of her death.
Tommy is then drawn into a memory so precious that it is literally glowing with warm, golden light. The cinematography on Feed the Beast is consistently some of the best on television and this clip is no different.
The show's use of different colors and and contrasts of light to convey the mood of scenes can sometimes border on the heavy-handed, but it always makes sense – and it always looks good.
Here, Tommy recalls a past that, when compared to the present, is heavenly in retrospect. For one, TJ is cheerfully chattering away, begging his mom to reveal her birthday wishes to them.
For another, no one is snorting cocaine, chugging wine or arguing with mobsters. The best part of this clip is the way we get to learn a little bit more about Rie and the kind of person she was – funny, and with an unfailingly positive outlook on life.
I loved the way Rie offset the emotional heft of her wish that Thirio have a successful opening night "in the not too distant future" with the joke about the pony.
Knowing more about her simultaneously tells us more about those she has left behind, and makes their self-destructive behavior in her absence slightly more sympathetic.
This was the most substantial and dialogue-driven flashback with Rie that Feed the Beast has given us so far, and I hope that more are still to come.
I would love to see a flashback to when Rie and Tommy first met. Rie seems so sunny and bright, a stark contrast to angsty Tommy; I'd love to know more about how these two people fell in love.
And who wouldn't want to bear witness to her first meeting with Dion?
Rie was clearly very special to everyone in her life. Seeing how they all cope with the occasion of her birthday – and inevitably butt heads over the different ways they choose to cope – should make this a pretty compelling episode.
Be sure to tune in to Feed the Beast on AMC this Tuesday, June 28 at 10/9C.