For The People: Jasmin Savoy Brown Previews Allison's Latest Case
Paul Dailly at . Updated at .
If you've been watching For The People online, you will know that the new legal drama has been tackling some high profile cases. 
That looks set to continue on For The People Season 1 Episode 3 which finds Allison Adams (Jasmin Savoy Brown) defending a man whose sentence is due to be determined by an algorithm. 
TV Fanatic had the opportunity to chat with Jasmin about the case, and you can read the interview below.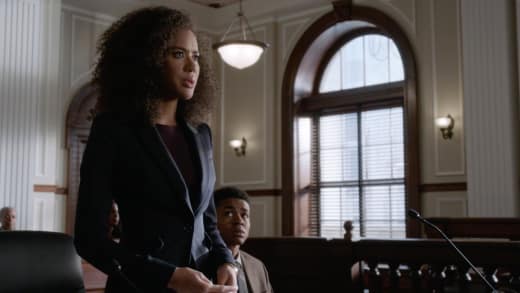 TV Fanatic: What can you tell us about the case Allison is working on?
So this week, Allison's client is a young black man who is being charged with possession of a firearm. He's a really good kid. He was just trying to defend his little brother who was being confronted by a gang.
And when Allison and Keenan arrive at the sentencing, the judge reveals that she is going to be using a sentencing software that consists of an algorithm that decides who is being sentenced and who is not, and Allison is floored.
She's never heard of this, and I had never heard of this either. I did a lot of research, and it is some freaky stuff. So floored, and upset, and she argues with the judge. The judge is upset at arguing at her for arguing, obviously, so Allison has to get the help of a mathematician, which will take us into her past because she has to ask for help when she doesn't want to.
Related: For The People Review: Rahowa
She has to get help for figuring out the algorithm and trying to decide how to move forward, and she really doesn't want to ask this person for help, but she does. And it will show us a lot about where she comes from, and who she is, and will give us a deeper look into Allison.
TV Fanatic: Okay, and does Allison think that the algorithm for sentencing is a bad idea?
Yeah, she hates it because she finds in her research that the algorithm disproportionately sentences people of color to white people and that it does. It sentences them a lot more often than this particular judge herself does.
So it doesn't really make sense to her why this judge would choose to use this software when it will kind of tarnish her reputation.
TV Fanatic: You said that we will get more insight into Allison's life before becoming a lawyer. Does that mean we'll be meeting anyone from her family?
Yes. You're going to meet her brother, and they are very dynamic. Their relationship is very specific, and it will let us see a side of Allison we haven't seen, because she's always pretty put together, and in control of her emotions, and he, of course, brings out very different sides of her.
For The People continues tonight at 10/9c on ABC. Return here right after the episode concludes for a full review and a post-mortem with Jasmin. 
Have a look at a preview of the episode below: