Good Trouble Sneak Peek: Judicorn is All Grown Up!

Jasmine Blu at .
And the first familiar Foster-Adams face pops in for a visit! 
The series didn't waste any time keying up the nostalgia by having Jude drop by the Coterie for a visit on Good Trouble Season 1 Episode 2. 
The Coterie is throwing a party, and a college-aged Jude is down for a party and the opportunity to check in on his favorite big sister. 
While adult Jude is a bit more reckless than he was as a child in his personal life, he has consistently been a grounding, stable, mature figure in Callie's life despite being younger than her. 
Callie and Jude have the same birth mother, and they grew up together before they ended up in the system.
Related: Good Trouble Season 1 Episode 1 Review: DTLA
Thanks to Callie's determination, they were reunited at the Foster Adams home early into The Fosters Season 1, and Jude became the heart of the series from that point forward. 
Jude has always been wise beyond his years and Callie's voice of reason. 
If anyone can help Callie process her feelings for Gael and understand his bisexuality, Jude can.
Jude had a beautiful coming of age and coming out arc throughout The Fosters. 
Related: Good Trouble Promo: #TotesAwkward
The Fosters broke ground by airing the youngest same-sex kiss on television in the US when 13-year-old Jude shared his first kiss with his crush Connor. 
Jude has always been a sounding board for Callie and a shoulder to lean on, so she will likely open up about her sexcapades with the handsome Gael. 
Related: Get Cinemax via Prime Video Channels for Hit Movies & Series that Keep You on the Edge of Your Seat!  
Jude attends college in LA, and he had a difficult first year away from home and was in danger of losing his scholarship.
He also knows what it feels like to feel lost away from home and away from their family.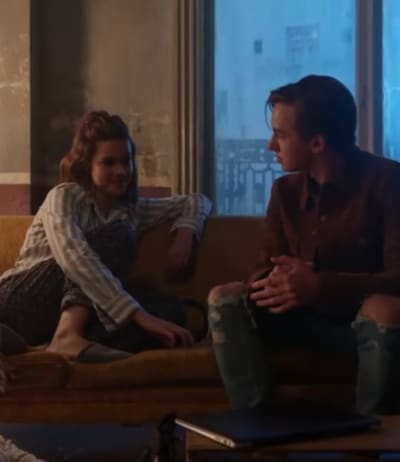 From the sounds of it, Jude has been focused on his academics and has been doing well. It sounds like he earned some bonding time with his sisters and some partying too. Mariana knew what she was doing by calling him. 
Check out the sneak peek below! 
You can watch Good Trouble online here via TV Fanatic if you missed the premiere of the hottest new show of the winter! 
Good Trouble airs Tuesdays at 8/7c on Freeform!