Grey's Anatomy Promo: Thatcher Returns!

Jasmine Blu at .
Apparently, everyone knows that Meredith is in a love triangle now. 
On the extended promo for the rest of the season, we catch glimpses of what the series has in store for the remainder of Grey's Anatomy Season 15 and Meredith's love life is featured prominently. 
The debate over who should win Meredith's heart (if anyone at all) continues, but Meredith seems to be having fun with both of the guys.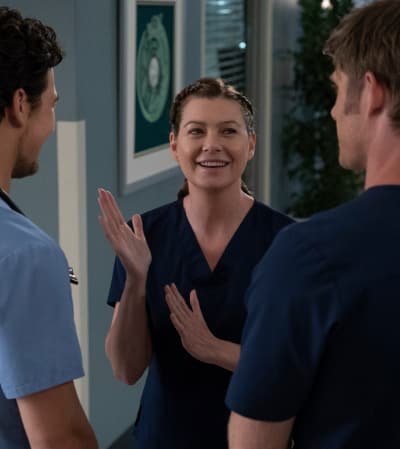 For one, she's quick to tell DeLuca that there could be something between her and Link and that she isn't giving the Ortho god false hope. DeLuca is more confident than we've ever seen him before, but he may be too confident if he thinks there is no competition for Meredith's affections. 
Related: Grey's Anatomy: The Link, Meredith, DeLuca Love Triangle is the Worst Idea Ever!
It's probably best that she keeps them both on their toes, and the most promising aspect of that is for those of you out there who may be 'shipping Meredith with Link, there may be more to work with and root for if they go on a date. 
Link has a few funny moments in the promo, so maybe he's coming into his own, and he's becoming a worthy option.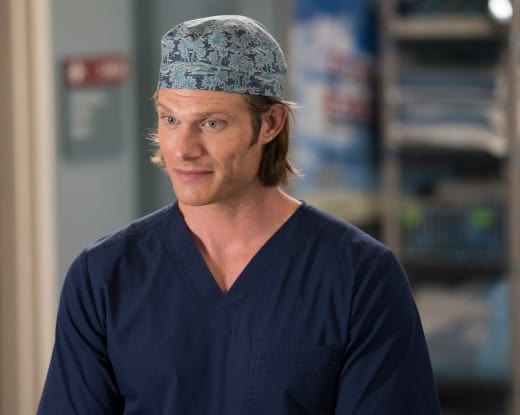 Jo can't resist making comments about Meredith finding herself in yet another love triangle. Seriously, how often does one find themselves in one of those throughout their life? Not this many times; I'm sure!
Meredith may have bigger fish to fry, however since she may take Thatcher up on his request for a visit. 
Thatcher Grey is dying, and he wants to see his daughter and potentially make amends with her. Richard shared that with her months ago, but she's coming around to the idea of seeing him.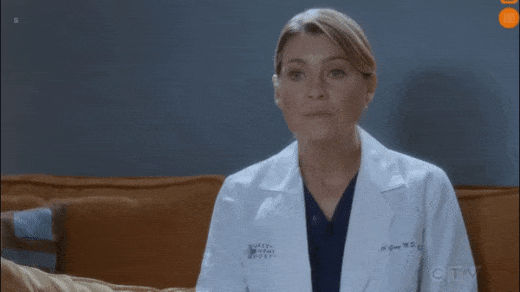 In fact, we see our first glimpse of Jeff Perry reprising the role as Thatcher. The face-off between Thatcher and Meredith is both intense and exciting! She hasn't seen her father in years, and they rarely were on the best terms. 
What could he have to say to her? 
Related: Grey's Anatomy Season 15 Episode 9 Review: Shelter from the Storm 
Now that the cat is out of the bag about Teddy and Owen's love child, Teddy has decided that she needs a job. She wants to stick around a little longer and figure things out with Owen. 
That leaves her groveling for a job after she turned the first job offer Bailey extended her down. Oh, Teddy. You have been a hot mess this season. 
Owen at least can agree that their entire situation is a mess. Of course, nothing compares to Owen being injected with something that could paralyze him while working on a patient in the OR. 
Man down! 
Amelia is distracting herself by throwing herself into Catherine's medical case with Tom. Yes, Tom is back to steal scenes, our hearts, and not be a romantic option for Meredith even though they have the best chemistry of them all.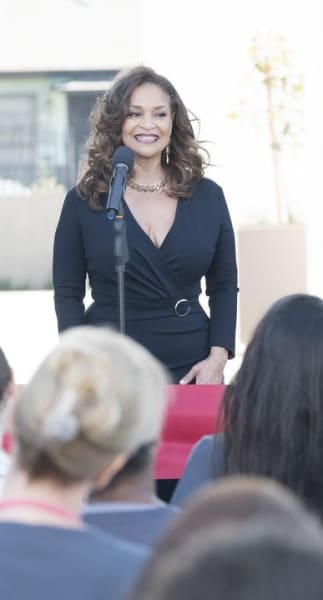 Catherine is in capable hands, but no amount of dance parties in the OR as prep and scary scans can stop Jackson from feeling helpless. 
When is the last time Jackson Avery cried? Because he is in full-tear over his mother's diagnosis, and it is heartbreaking.
He admits that he feels like a scared little boy, and honestly, Jackson needs a group hug. Fortunately, Maggie is right by his side and there to be emotional support. 
It seems the pair can put their issues aside for the sake of Catherine. I guess Jackson is about to realize that Maggie doesn't run when the going gets tough after all. 
Related: Get Britbox via Prime Video Channels for the biggest streaming collection of TV from BBC & ITV...ever.  
Meanwhile, Bailey has decided that she wants Ben back, but he's not ready to kiss and make-up just yet. You know what? That's fair. 
As Ben said, she broke his heart. It's not going to be so easy to win him back, Bailey.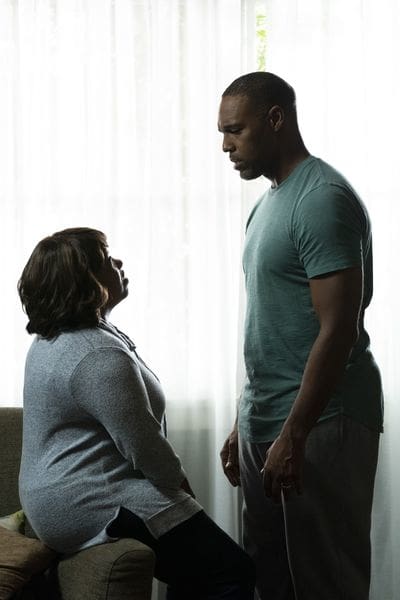 There are a lot of fun things to look forward to on Grey's Anatomy for the rest of the year and lots of drama too. 
Check out the promo below, and hit the comments. 
Don't forget, you can watch Grey's Anatomy online here via TV Fanatic!