House Of Cards Season 5: FIRST LOOK!
Paul Dailly at . Updated at .
Frank Underwood will stage his return to Netflix for House of Cards Season 5 later this month, and we are beyond excited to find out what's coming next for the character. 
Netflix dropped the official trailer for the new season earlier today, and it actually looks pretty good.
President Underwood takes jabs at the American people for much of the 90-second trailer, implying that he knows what's best and that everyone will follow his lead.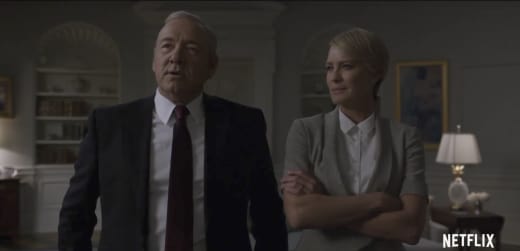 Now, that may be true for a little while, but his claims that he will spend at least four terms in office are a little exaggerated. 
It seems like he thinks that turning everyone against each other will be instrumental in him being able to manipulate the people who rise to power after him. 
That's easier said than done, but we're sure Frank will have some tricks up his sleeve to make it happen. 
It also looks like Frank's sexuality will be further explored in the new batch of episodes. He is seen getting up close and personal with a male companion at one part. 
Whether it's all part of his plan to have all the power, we don't know. 
Season 5 also marks the first season without the series creator, Beau Willimon. Willimon departed the series at the close of Season 4, with Melissa James Gibson and Frank Pugliese taking over for the current season. 
Will the changes behind the scenes help return the series to its former glory, or will it slip further into oblivion? 
First impressions are everything, and our first impression based on the trailer is that the series looks back on track. 
Have a look at the full video below and look out for all episodes May 30 on Netflix.