Liv is effortlessly jumping back into the brain business. 
The only difference now is that, as we saw on iZombie Season 4 Episode 1, everyone is perfectly aware of the fact that Liv is channeling personalities from the human brains she consumes.
On iZombie Season 4 Episode 2, Liv will take on the brain of a snobby older woman who has rubbed many people the wrong way. 
She's rich, snooty, and she has a staff list that is a mile long. We can probably guess who the first suspects will be! 
Clive has done a spectacular job at putting up with Liv and her various personalities, but this one may irritate him more than usual. 
Hell, she slipped into the backseat of his car, and she fully expects him to cart her around like he's Morgan Freeman in Driving Ms. Daisy. It's not going to happen, Liv!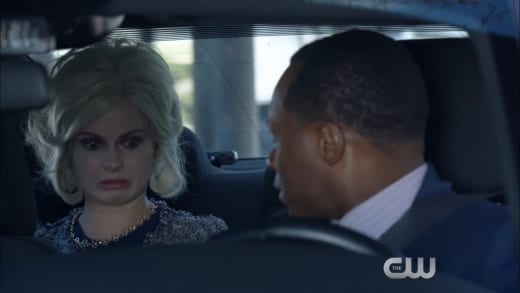 It's business as usual with the case of the week and this dynamic duo of crime-solvers including Ravi and some of his special gadgets, but what we can't forget, is that Seattle has descended into chaos around them. 
There isn't a single hint in the promo as to what Angus' escape will mean for Blaine and Chase.
We also don't know whether or not Major can successfully train his new, young zombie soldiers. 
Liv may have caught word of his new responsibility though because Major and Liv will find themselves on opposing ends of an issue. It undoubtedly has to do with Chase. 
If you missed the season 4 premiere, you can watch iZombie online here via TV Fanatic. Also, make sure to check out our iZombie reviews and our iZombie roundtables!
Check out the promo below and hit the comments with your impression!