iZombie Season 4 Trailer: Welcome to the New Seattle!

Jasmine Blu at .
Are you ready for the new zombie order?
Team Z is back and nothing is the same anymore. For starters, Seattle is a zombie base, and the entire world knows about zombies.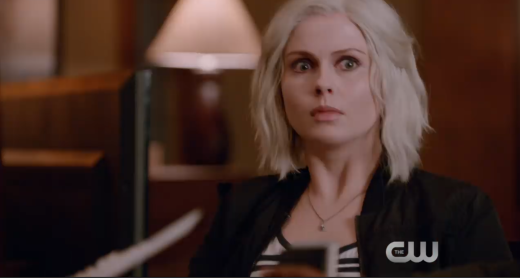 If you recall on iZombie Season 3 Episode 13, the game-changing finale, zombie covers were blown, the city erupted in mass panic upon an infestation, and the world discovered that zombies were living amongst them.
According to EW, the season premiere will take place three months after the finale, and all is not well in Seattle.
The Emerald City has been fenced off from the rest of the country--the rest of the world-- and the humans and zombies of Seattle are forced to cohabitate together.
As you can imagine, they cannot coexist peacefully. Enter Major and the zombie militaristic police force. In the trailer, Major notes that they need to take preventative measures to guarantee zombie street gangs aren't formed and running amok.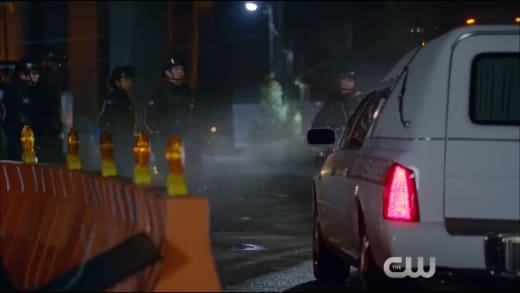 After a long three seasons of Major struggling to find his true purpose, he appears to have found it here.
He gets to put his experience, physicality, and knowledge to good use enforcing law and order among the zombie population and keeping the peace between zombies and humans.
Blaine, ever the opportunistic entrepreneur along with Donnie, has turned Seattle into a zombie town that mass produces packaged brains to put on the market.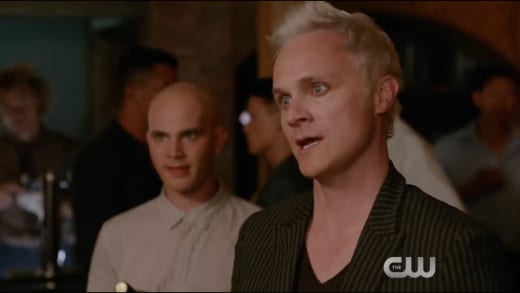 Peyton and Clive have come to grips with the situation they are in, and they have accepted their roles as zombie sympathizers and humans in a zombie town.
From the trailer, it looks as if a colleague wonders how Peyton does it.
But the biggest surprise is Ravi.
Get a load of Ravi's streaks, and no, I'm not talking about him traumatizing his buddies by donning his birthday suit and sipping tea by the breakfast table like a proper Brit.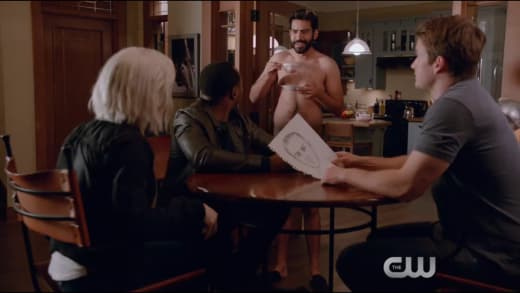 No, I'm talking about those white streaks in his hair! Could it be a misdirect? Possibly, but then is Ravi chomping down on a brain a misdirect too?
Ravi made a brave and bold decision in the season finale. He allowed Liv to scratch him so he could test out his zombie vaccination.
Does this mean the vaccine didn't work or is it just a side-effect?
Is Ravi a zombie now?!?! If he is, he doesn't appear to mind too much.
It's a new chapter of iZombie. The truth is out and it's expected to revitalize the series in new and exciting ways.
With a new wall built, zombie vs human hate crimes, species prejudice and more, the show is expected to be more political, timely, and socially conscious than ever before.
Yes, iZombie may be topical with its use of metaphors and allegories, but it's not something that hasn't been done on the show before, so it shouldn't change the tone too much.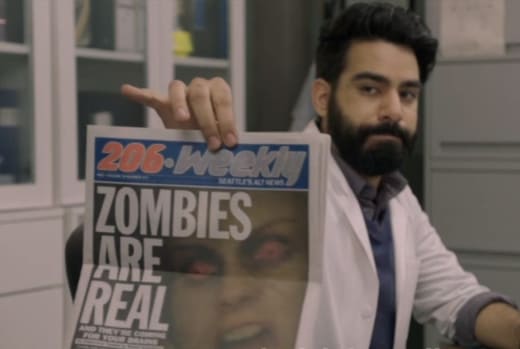 No worries though, we can still expect crime fighting, witticisms, puns and all the things that make iZombie one of the best supernatural shows on the air.
Are you ready to pick a side: humans or zombies? Do you believe Ravi has gone over to the z side? Are you prepared for the new zombie world order?
Check out the trailer below, and hit the comments with your reactions!
Izombie returns Monday, February 26 at 9/8c on The CW.
If you need a refresher, you can watch iZombie online right here at TV Fanatic.