Killing Fields: Murder Isle Sneak Peek: What Did Wade Welch Witness?

Carissa Pavlica at .
There is a new witness in the hot on tonight's episode of Killing Fields: Murder Isle, and from the looks on the faces of everyone present in the interrogation room, what he's presenting is nothing short of explosive.
Has Wade Welch been holding back evidence for over a decade?
Lt. Tom Potter and Kris Coughlin are cool as ice while asking questions of Wade Welch.
Who is Welch? It's hard to know at this point, but he has some incredible eye-witness details about a relationship Carrie Singer had with a man named Robert.
Robert must be the suspect the team is honing in on now. Or is it Welch himself? One thing I've learned by watching hundreds upon hundreds of interrogations and investigations such as these is investigators never show their hands too soon.
For his part, Welch reveals not only seeing Singer and Robert in physical altercations, but apparently he remembers when he felt it was time for him to cut ties from the couple.
I don't know about you, but I don't know that many people who cut off ties from their friends for issues like that without helping out in some way. Why would he walk away from a couple in trouble?
Another interesting point comes /when he's asked about a specific conversation he may have had with "Bob."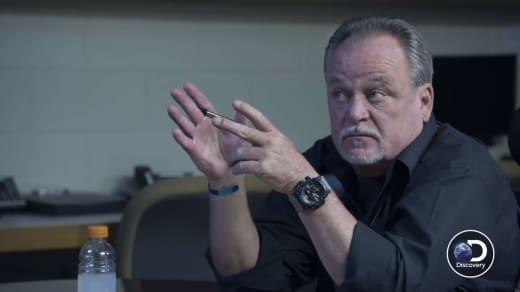 The look on Randy Patrick's face above was his alarm at discovering Welch suddenly recalled a conversation from so long ago. 
Does that mean Patrick, the original investigator in Singer's case, has already been through all of this with Welch? And if so, then what else does Welch know and why is he making it a point to pull himself out of their relationship over a decade later?
I'm telling you right now, Wade Welch has his name in the spotlight because he knows a lot more than the little reveals he's trying to hide behind during this "laid back" conversation with Potter and Coughlin.
Do you think they'll stick it to him before the end of the hour or will it drag on a bit more until he let's on what he really knows about the physicality between Singer and Robert?
Be sure to tune into Killing Fields: Murder Isle as the Isle of Wight Sheriff's Department investigates in real time, making up for lost time, while they aim to take down whoever was responsible for Carrie Singer's murder and finally bring her family peace and Singer the justice she deserves.
Killing Fields: Murder Isle airs Thursdays, 9/8c only on Discovery!