Yes, I've been singing the praises of Loudermilk here on TV Fanatic, but now those of you who have had a chance to see Will Sasso on Kevin (Probably) Saves the World might see it's a little more familiar!
In addition to the great Ron Livingston as Loudermilk, Sasso as his roommate, Ben, should not be missed.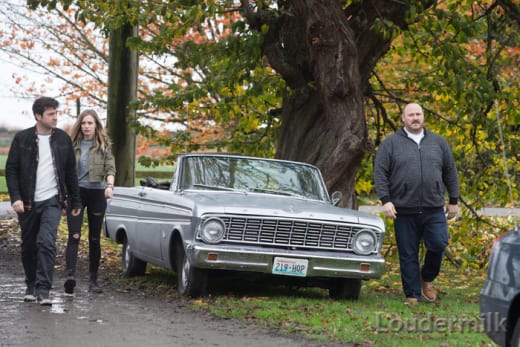 Loudermilk Season 1 Episode 9, "Highway 10 Revisited" appears to be a road trip gone crazy.
In the exclusive clip below, Loudermilk, Claire, and Ben are hitting the road to New Orleans with the intent to crash a wedding.
While Claire was initially blamed (on her first day with the two roomies) for stashing booze behind in the toilet and breaking house rules, everyone but Loudermilk, recovering alcoholic and AA leader extraordinaire, knows it belonged to Ben.
What better time to discover the truth than on the road? While Ben's driving?
In the sneak peek below, Loudermilk isn't anywhere as peeved as I would be at Ben's behavior. Flask behind in one hand, other hand on the wheel, and the top down? 
The dialogue is perfect as usual, and the real stunner belongs to the photos we're sharing in this post because THEY OBVIOUSLY MAKE IT TO THE WEDDING!!
Why is that such a stunner, you ask, when soooo many people drink and drive when they shouldn't and make it out alive (not condoning, just stating a very sad, unfunny fact)?
Because they also get pulled over by the police.
I can't wait to see how they get through it. Then again, Ben's no different drunk than he is stone cold sober. Maybe that's the trick.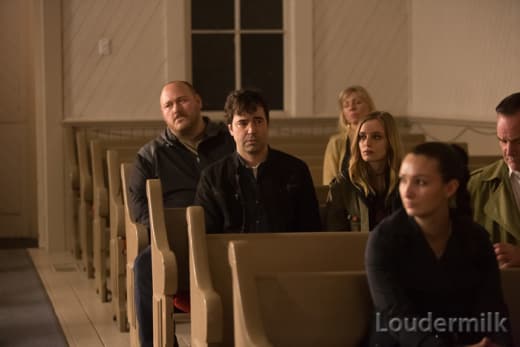 And for those of you who think Loudermilk is making fun of things that don't deserve the message, watch the show before judging the whole story. Very sad tales are told with sardonic humor and told very well.
All of you who have AT&T Uverse, DirecTV and DirecTV Now, you're in for a treat! Watch Loudermilk Tuesdays at 10:30 on Audience Network. 
The rest of you may want to invest in DirecTV Now. All packages come with Audience Network and you have no idea what you're missing!!