Murder in the First Season 3 Premiere Clip: Exclusive Look at Amanda Schull's Sexy New Assistant Attorney General!!

Carissa Pavlica at . Updated at .
When Murder in the First Season 3 premieres on Sunday, June 26, there will be a new Assistant Attorney General in town.
Amanda Schull will be playing Melissa Danson, a ruthless new addition to the Attorney General's office.
Just how far will she be willing to go to get ahead?
From the looks of this exclusive clip, she's willing to go pretty darn far.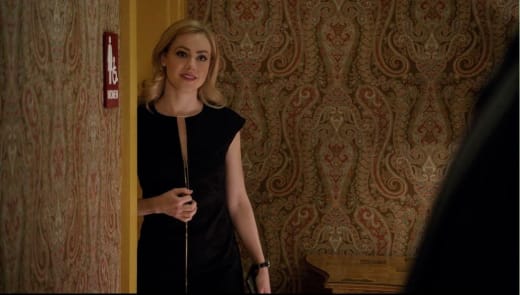 It's easy to see why DA Mario Siletti (Currie Graham) is a little worried about the birthday gift Melissa is offering.
If I were him, I might not make the joke about Melissa becoming Facebook friends with his wife. 
After all, just how well does he know this woman?
The answer is that after his birthday gift, he will probably know her a little bit better.
OK. A LOT better, if he really goes through will the receipt of said gift. A little privacy in the ladies room? Oh boy.
When we chatted with Amanda Schull, she noted she works hard to ensure her characters are different entities.
It was especially important for her to separate her Suits attorney, Katrina Bennett, with her newest character, Melissa Danson, because people could otherwise easily mistake two female lawyers.
"Regarding my character on Murder in the First, her name is Melissa Danson," Schull shared. "I wanted to make sure that she was – obviously the writing lends itself to this and the story lends itself to this – but I wanted to make sure, as a lawyer, that people don't automatically think I'm doing a different incarnation of Katrina."
"So I tried to create a different back story for her, a different physicality for her."
After watching this clip, it seems unlikely anybody will mistake the two women.
While they're both strong female attorneys, I can't imagine in my wildest dreams seeing Katrina unzipping as Melissa is doing here. A+ for creating an entirely new physicality!
But how will she fit into the new case this season? We'll have to wait to find out.
Detectives Terry English (Taye Diggs) and Hildy Mulligan (Kathleen Robertson) will be investigating the murder of a pro quarterback, and they'll find themselves pulled into the world of celebrities. 
Let's hope Mario doesn't get too distracted by Melissa to be at his best for what is sure to be another high profile case.
Be sure to tune into Murder in the First on TNT Sunday, June 26 at 10/9c!