The ladies of Litchfield are returning with a vengeance to Netflix on Friday, June 9. 
Still reeling from Poussey's death on Orange Is The New Black Season 4, the inmates will go to drastic measures in order to make their voices heard.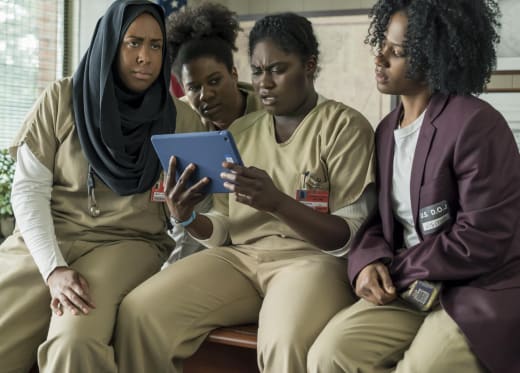 With the big cover-up regarding the death of Poussey, the season picks up with Dayanara holding a gun at a guard and getting ready to start a war between the inmates and the guards. 
While all of the women egg her on, there is still no confirmation on whether the bullet Dayanara sends actually hits the guard, or if there is a big misdirect being sent to us from Netflix HQ. 
We do get to see the prison in upheaval as the ladies take over and make their own rules. With the increased media attention, two of the inmates will try and use their looks to become famous. 
Famous in orange has a certain ring to it, but something tells us the ladies are going to wind up in a lot more trouble before Caputo publicly admits the truth about the murder. 
As you probably recall, Caputo was on the fence about the lie, but he was pushed aside by the bigwigs of the prison to make sure he would stick to the story that paints the dearly departed Poussey in a bad light. 
Taystee is not ready to let Caputo off the hook, so she and her friends corner him in his office in one scene, before demanding that he tells the truth to the public. 
It seems that all they want is for the truth to come out about the murder, and who can blame them? What happened to Poussey was deplorable, and covering it up is just diabolical. 
Have a look at the full trailer for Orange Is The New Black below. Be sure to check out our Orange Is The New Black Season 4 giveaway.
Show:

Tag:

Related Videos:

Uploaded by:

Uploaded:

Duration: