Orphan Black Season 5 Trailer: The Final Trip

Caralynn Lippo at . Updated at .
It's been a wild ride for Sarah Manning and her clone sestras.
Over the past four seasons, viewers have seen the identical women (all masterfully and uniquely played by Tatiana Maslany) battle a number of increasingly treacherous foes.
Now, it's all coming to an end with Orphan Black Season 5 – and the very first trailer for the new (and final) season is here.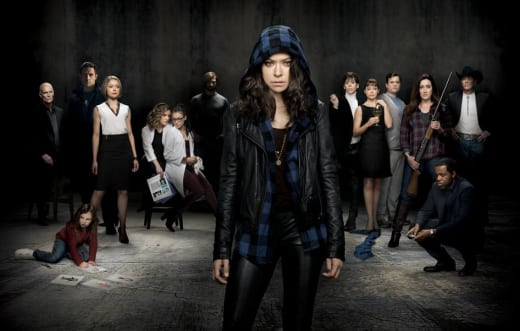 Featuring voice-overs from Sarah, Alison, Cosima, and Helena, the trailer takes us back to the very start: when Sarah saw Beth, the first clone she encountered, take her own life by walking in front of an oncoming train.
The women muse that they've been hunted, controlled, used, and betrayed as we see flashbacks to all of their traumatic experiences. 
"Together we fight... together we are one," the clones say together, as the train track that Beth jumped onto twists and turns like a roller coaster... or a strand of cloned DNA.
One thing's for sure – Orphan Black's last ride is going to be a doozy.
If you need to catch up, you can watch Orphan Black online before the premiere.
Orphan Black returns Saturday, June 10 at 10/9c only on BBC America!