Pure Season 2, debuting May 28 on WGN America, can best be summed up by The Who lyric "Come meet the new boss same as the old boss."
Pure Season 1, which aired earlier this year, told the gritty tale of Mennonite Pastor Noah Funk, who went undercover with the goal of exposing the Mennonite mob which was running drugs from Mexico to Canada.
Once she found out what her naive husband was attempting, Noah's steely wife Anna also got involved in his well-intentioned effort to bring down mob boss Eli Voss. 
They were aided in the investigation by disgraced local cop Bronco Novak, who dated Anna and picked on Noah while all three attended the local high school. The dynamic among the trio was one of the first-season highlights.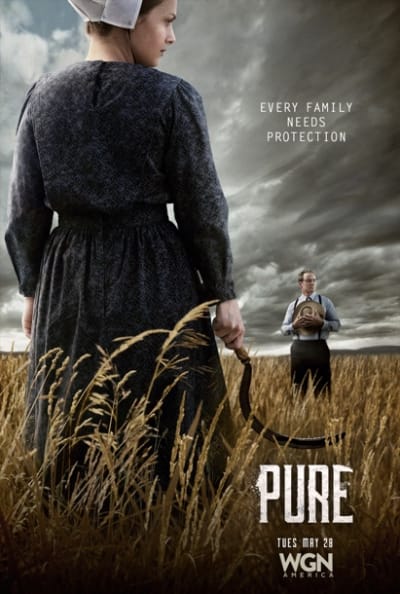 Noah ended up shooting and killing Voss to protect his adopted son Ezekiel. The season ended with him leaving the Mennonite community and his family to do penance for his sins.
The exclusive trailer below for the six-episode second season shows that Noah failed miserably in his goal of freeing his people and his family from the mob.
Related: Pure Season Finale Review: Baptism
Anna gets excommunicated from the church for her involvement with the mob. Then she is recruited by the new mob boss, Hector Estrada, to once again run the local drug manufacturing and distribution.
At the same time, it appears that Noah is again working with the police to take down the mob.
So husband and wife are heading for a showdown.
Returning are Ryan Robbins as Noah and Alex Paxton-Beesley as Anna.
A key loss is Bronco, as A.J. Buckley's SEAL Team obligations likely made him unavailable to return.
Related: Get CBS All Access via Amazon Channels for Hit Shows, Exclusive Originals & Live TV!
New characters include Estrada (Victor Gomez), police accountant Valerie Krochak (Zoie Palmer, Lost Girl) and Esther Dunkel (Alyson Hannigan, How I Met Your Mother), a lapsed Mennonite who is laundering drug money through a local bank.
"Pure" is an international collaboration produced by Two East Productions and Cineflix in association with WGN America, Super Channel, Hulu, and the CBC.