Riverdale: Lili Reinhart Can't Wait for You to See More of Badass Betty!
Carissa Pavlica at .
Lili Reinhart couldn't be more excited to bring out the dark side of Betty Cooper.
Of course, dark isn't her favorite word for it.
Lili prefers badass, and we have to agree. Badass Betty has a very nice ring to it!
It shouldn't be a surprise that Betty is Reinhart's favorite character.
She cares for her alter ego deeply but keeps a healthy divide between her real life and her reel life.
Related: Read ALL of Riverdale's Past Reviews Right Here!!
She's proud of Betty's heroism and ability to save herself.
Betty doesn't need someone to rescue her, which doesn't mean she won't accept a helping hand.
While she's still happy with Jughead and things are going well, Reinhart does imagine a scenario (that's not too far in the distant future) in which the two may find their waters a lot more choppy.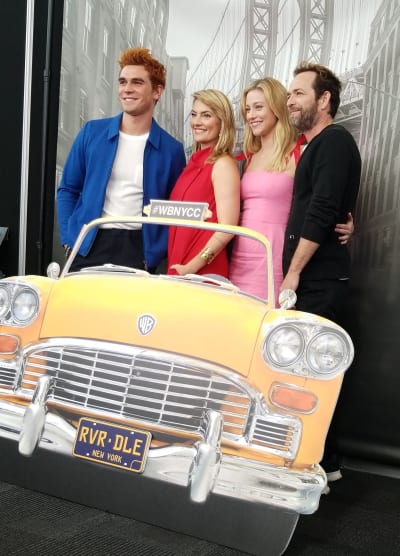 Unlike some actors, Reinhart watches her show.
After all, she's not in every scene.
How else is she supposed to keep up with all of the shenanigans going on in Riverdale?
And why would she want to miss all of the other great talent she works alongside?
Related: Join in the Conversation about Riverdale with Round Table Discussions for Every Episode!
Find out what else Reinhart has to say about Riverdale, her co-stars and so much more when you check out the interview below.
Be sure to check out other Riverdale interviews, reviews, and round tables, too!
Riverdale airs on Wednesdays on The CW before the new series, All American.
If you need to catch up with Betty, Archie, Veronica, and her beau, Jughead, you can watch Riverdale online via TV Fanatic.