Eight letters. Three words. A whole mess of trouble.
There seems to be trouble in paradise coming up for 'Varchie' on Riverdale Season 2 Episode 8.
Up until now the couple had been hot and heavy. While Betty and Jughead brought the sugary sweet romance, Varchie lit up the flames of passion. However, one simple sentence could ruin all that.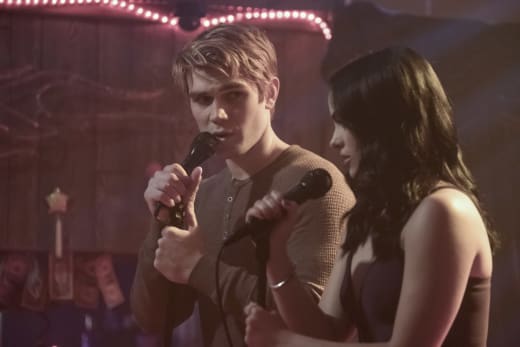 Based on the teaser, Archie is head over heels for Veronica. In fact, he even feels confident enough to tell her that he loves her. The problem is, however, she's not feeling the same way.
Could this be what tears them apart?
We see the couple dive into investigating The Black Hood case. They're using it as a distraction, but that will only keep them busy for so long.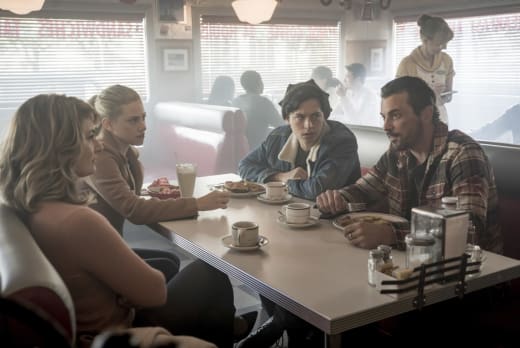 FP Jones is a free man!
The leader of the Southside Serpents has walked away from jail.  Now that he's not behind bars, he seems to be approaching life differently. He's giving Jughead advice about escaping Riverdale and he's working a new job at Pop Tate's Chock'lit Shoppe.
Though, Cheryl certainly is giving him a hard time for making a fresh start. Let's never forget that lost milkshake. (R.I.P.)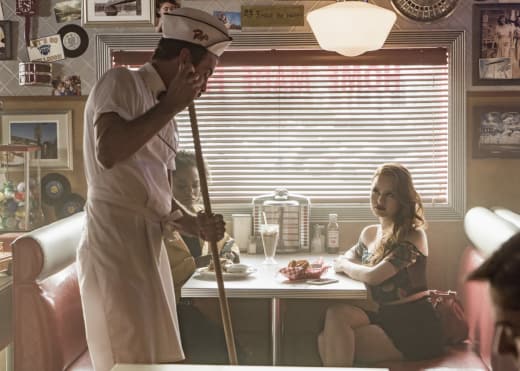 Speaking of loss, there's still no word of 'The Reckoning' set forth by The Black Hood. He's raised the gauntlet on Riverdale Season 2 Episode 7; we know for sure trouble is coming. Will we see his first strike on "Chapter Twenty-One: House of the Devil"?
From the teaser alone, we do see quick clips of a man shooting a gun, someone at a workbench, and Cheryl and Josie looking terrified. Those are not clips to ignore.
While Archie and Veronica go hunting for the killer, and Betty and Jughead throw the welcome home party for FP, this could be the time when The Black Hood to make his presence known.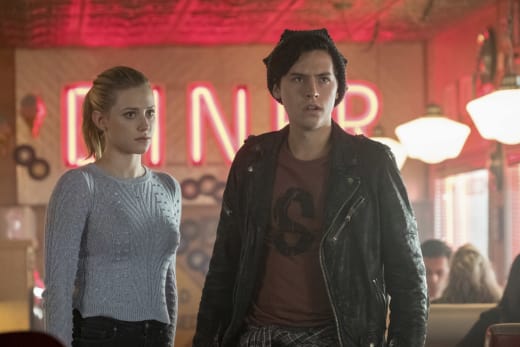 For a full discussion of what occurred on previously, be sure to check out the Riverdale Round Table: Who Could Be The Killer Now?
The, check out the full teaser below and share your thoughts in the comments.
Don't forget, you can watch Riverdale online via TV Fanatic. Get caught up on all the past drama now!
Riverdale airs Wednesdays on The CW.