Shadowhunters' Todd Slavkin, David Swimmer and Cassandra Clare Tease Bigger, Darker City

Justin Carreiro at . Updated at .
Shadowhunters is taking things to the next level for its second season. The series returns to Freeform on Monday, January 2 at 8/7c, and we got the chance to chat with the execs – Todd Slavkin and David Swimmer – as well as author Cassandra Clare for some juicy details.
Shadowhunters is the TV adaptation of the hit young adult novels, The Mortal Instruments.
The story originally appeared as a 2013 movie, starring Lily Collins and Jamie Campbell Bower, before being reworked for TV where it has seen further success.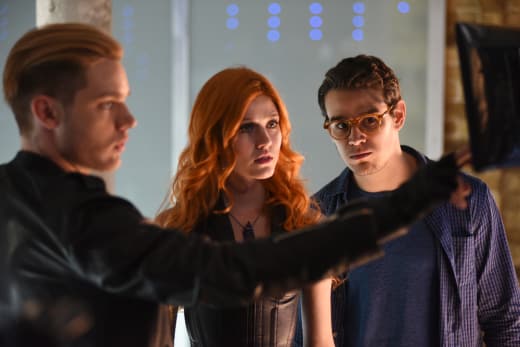 The Freeform show follows the story of Clary Fray (portrayed by Katherine McNamara), a seemingly normal girl in New York City who discovers she is a Shadowhunter; a human-angel hybrid who has powers and must fight demons.
Along with other Shadowhunters Jace, Alec and Isabelle, and her best friend Simon, they search for her missing mother.
The first season laid the groundwork for Clary's adventure and the battles ahead. But as Swimmer and Slavkin point out, the look and feel will shift when the series returns.
"A little bit more grit, a little bit more texture, and darkness to the series," said Swimmer, as he shared how they're elevating Shadowhunters for the next season.
The same can be said for the sets, with spots like The Institute and Magnus's apartment being expanded. Cassandra Clare was excited over the increased use of NYC.
She indicates the "presence" of the city will play a bigger role as compared to the first year.
What's one spot to keep your eye on? Hunter's Moon. It seems to be the place to be for the main characters.
As Slavkin notes, "That's where a lot of our interactions happen on this new set. It's kinda like 'The Peach Pit' of the Shadowhunters world."
The bar is also where we'll get to meet newcomer Maia, who book fans will know the name. All three were excited over her introduction and dropped hints about her potential relationships with the main group.
You can check out the video below for the full interview from New York Comic Con 2016. Find out what else they had to say!