Shut Eye Creator Les Bohem and Isabella Rossellini on Power of Women, Romani Culture

Carissa Pavlica at .
Shut Eye is coming to Hulu on Wednesday, December 7.
It's dropping all at once, so you'll have the opportunity to enjoy this unique series in its entirety at your own pace.
We've already brought you an interview with costars David Zayas and Emmanuelle Chriqui on their roles in this Jeffrey Donovan starrer about a con working in and running a chain of fortune-telling storefronts for a family that controls the business in the Los Angeles area.
When a blow to the head brings him some actual visions, things begin to change.
Among them, Charlie's wife Linda (KaDee Strickland) has wanted to to break away from Fonso (Angus Sampson), the single father who runs the Marks family's psychic empire and controls the Haverford's future, for a while and sees this new skill of Charlie's as the time to make their move.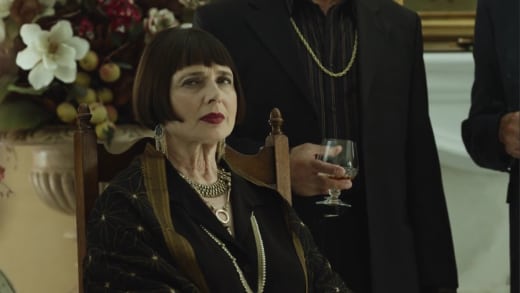 Isabella Rossellini co-stars as Rita, the cunning, seductive and sadistic matriarch of the Marks clan. Within no time at all, you get a chance to see Rossellini as both empathetic and downright wicked. And she's great at it.
Over the years she's played sultry and enigmatic women in movies such as Blue Velvet, Wild at Heart and Immortal Beloved and is also well-known for her role as Katya Derevko on Alias.
Les Bohem, known for writing Dantes Peak and Extant, weighs in with Rossellini in the video below to talk about the Romani culture, the power of women, writing for characters with actors in mind and how the idea for Shut Eye morphed the more those items came into play.
Then be sure to check out our other interview, linked above, and keep an eye out tomorrow for our final interview with stars Jeffrey Donovan and KaDee Strickland.
Remember, Shut Eye comes to Hulu on December 7. Enjoy the interview and prepare your series viewing accordingly!