Suits Season 6 is almost here!
And we had the chance to hang out with the cast last week in NYC.
Sarah Rafferty (Donna), Patrick J Adams (Mike), and Rick Hoffman (Louis) were nice enough to give us a sneak peak of the premiere episode.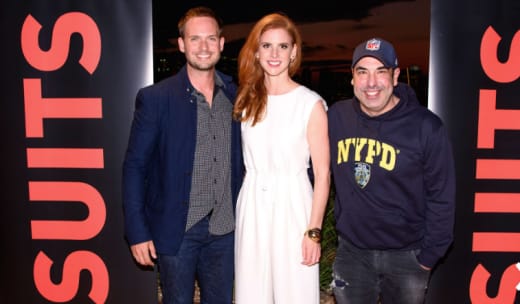 Then they hung out and answered some questions from fans.
Some of those questions weren't quite what the actors expected.
One in particular took the room by surprise.
It even had Sarah reminding everyone that her parents were in the room!
But considering Mike Ross' back story, we can't say the question wasn't justified.
Yes, that's right.
One fan took the mic and asked if the actors had smoked weed in real life.
It had many people squirming...
And most fans laughing.
But it was Rick Hoffman who stepped up and admitted what he's had to do to get it right on screen.
Or at least he hopes he's gotten it right!
Check out the answer that surprised some and left most of the room giggling.
Don't forget to check back in for Suits Season 6 Episode 1 review.
Suits Season 6 premieres on Wednesday, July 13th.
And if you can't wait until then, you can watch Suits online any time here at TV Fanatic. 
Show:

Tag:

Related Videos:

Uploaded by:

Uploaded:

Modified:

Duration: