The 100 Season 6 Trailer: What We Learned About The Brave New World!

Yana Grebenyuk at .
Did anyone else find themselves wondering if The 100 Season 6 trailer was just an illusion created to mess with our minds?
Well either the two suns aligned and the wait for this trailer was our form of torture, or it is all real and it is all extraordinary. 
The CW first captured our interest with a new poster that promises lots of color on the new planet, as well as Clarke possibly facing her demons in a more literal sense than anyone expected.
But the trailer cemented that and much more because, in fact, almost everyone we know went through some kind of emotional torture in that sneak peek at the new season.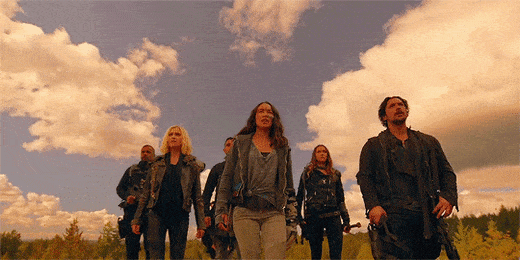 In fact, several characters actually ended up in situations from their past, possibly being forced to confront mistakes that they might not have made if the choice was theirs. 
And it was the official extended trailer that gave us a taste for what that may be, combined with a glimpse at this new planet and so much more.
It was also the trailer that provided us with a promise that this new season will dive into areas that fans have been wishing for.
The attention that Clarke gets, especially when so much of it is her working through the trauma and the hope that she is wrestling with inside of her, is a gift that keeps on giving.
Then there are those glimpses at all the characters working through something, with the tension and the possibilities growing as more and more of the planet comes into view. Both literally and figuratively.
A new planet doesn't equal complete piece, but it does open the door for old problems to resurface and be confronted in unexpected ways. 
The 100 Season 6: Everything From Unity Days 2019, with a Riverdale Twist!
Familiar Faces In New (and Old) Places
It is like all we have been waiting for was that trailer because with it came many answers we were hoping for. 
A new book means a new look, and Sanctum (!) is definitely its own form of a sacred place, especially for Clarke who is transfixed by this world and the promises that it holds, maybe even more than everyone else.
There is that clear cut want that she has for better and maybe even happier times for everyone, which connects back to the heart tendencies that she is clinging to.
And who can blame her when it all looks sort of perfect in the beginning?
But judging from Bellamy's outlook on the new planet, Bob Morley was hinting at something at Conageddon when he mentioned Season 1 Bellamy appearing again, which works well with the danger that appears just as quickly as it seemed to disappear.
First, the conflict comes from the planet itself, with some killer side effects from the two suns eclipsing.
There was mention of Eliza Taylor being challenged throughout the season, an exciting thought all on its own, but it looks like every actor gets to work through something.
When it comes to the planet at least, they have this dangerous nature that appears in them from the looks of it. 
The intrigue though comes from the fact that everyone is tested, with characters like Madi, Murphy, Emori, Jackson, and Echo all showing signs of some memorable emotional issues that they have to fight against.
The question becomes whether it is all based on the planet effect them, or if there is more to Russell's words about changing the past.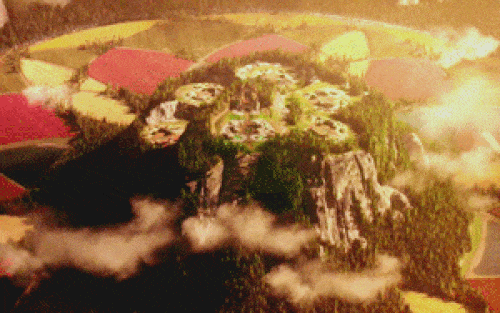 Clarke argues that she does and then we are taken with her back to Mount Weather, a choice that left quite a mark on her soul and the way that she chose to live from then on.
Octavia faces that same predicament with Blodreina, fighting herself in the pits has never become more confusing or more validating.
There was already take about clones when it came to the poster and the idea of facing your demons.
If your demon is yourself, is fighting what you consider your darkest parts even possible?
The 100 takes that question and runs with it, leaving us wondering if there is a physical manifestation that will give a few of our favorites the ability to truly face what they might have been hiding from.
Clarke tells Russell that they want to change, and yet hints prove that the situation might call for quite the opposite from them.
With everyone potentially being tested by the planet, by themselves, and even by others there is no way that peace will just magically happen right away.
The 100: Jason Rothenberg on a Whole New Planet and the Season 5 Impact  
New Faces, New Threats, and New Eclipse Induced Psychosis
A different way of looking at Sanctum includes the idea of a private place from which most people are excluded. Now JR Bourne's character who we will know as Russell creates the illusion of a peaceful place that welcomes all.
Clarke at least is invited there with open arms, getting access to a room and fun that she hasn't had in a while. And yet there were plenty of indications that it wasn't all as bright and inviting, at least not for everyone.
There were very Reaper-like individuals running through those woods that Bellamy and a few others were headed towards. This doesn't mean they cross paths, but when was The 100 known for avoiding a freaking confrontation? 
There is actually even plenty of less than kind interactions being introduced in a trailer where many of these characters don't even have names in our minds yet.
Russell is the first one to consider though, as much as he looks like something spreading peace and kindness, something is off.
Maybe it is just a combination of JR Bourne and this intricate lighting coming together to tease something dark, or maybe there is actually more sinister stuff happening than what everyone sees at the surface level.
There are various groups living on this land, and not all of them are kind to each other or to strangers.
Characters like Madi are in danger beyond just psychological confrontations with themselves, although there is much of that to keep everyone up at night.
Madi goes missing at some point, and whoever else is out there doesn't appear to be totally welcoming. Her being a nightblood and a commander might not mean she has followers on this new planet, but that doesn't mean she has nothing to offer.
Considering that everyone down there probably knows about the nightblood, they should all have it, but it can also create conflict for someone in a position like Madi's when she has the flame in her as well.
Could Gaia be with her because they are hiding out and Madi needs to be protected? 
It all comes down to the fact that as much as our favorites are putting guilt on each other and are told by others that they aren't good, a community always quickly crumbles when their perfect facade is examined a bit more.
Sanctum looks like paradise, but nothing is ever like it seems.
Getting our favorite characters to focus on themselves and their darkness is a great way to distract from the darkness growing on Sanctum.
The 100: Expanding On Bellamy Blake's Romantic Life (And Its Value)
The Bellarke Corner With Lots of Colorful Lighting
Bellamy and Clarke are gravitating quite a bit towards one another in that trailer and we are all living for it.
How does one even deal with the fact that the radio calls are acknowledged in the trailer itself?
There were promises of characters actually talking this season, and it looks like we caught a bit of that between the two most anticipated soulmates of the show.
Just because they are together trying to figure out how to survive on this planet doesn't mean everything is good between them. That might not sound promising, but there is just something about a pair working through their angst that deserves our attention.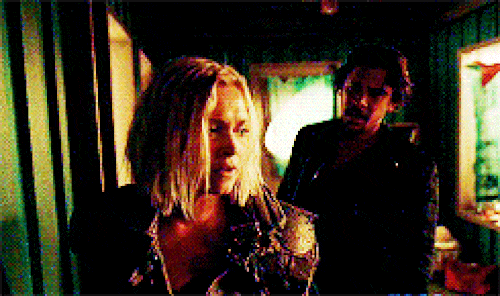 The divide might even go beyond what fans are expecting, with the two clearly falling back on the whole head and heart thing.
With Clarke much more in her heart, it leaves Bellamy in his head which might become a believer vs skeptic dynamic down on Sanctum.
Clarke believes while Bellamy questions, a divide that could work as another Season 1 parallel for these co-leaders. 
Except for this time they have two "children" to worry about and not enough time to even relax before things get deadly again.
Looks like we need to be holding out hope that while they explore that village together that they really take the time to communicate and reconnect because that is when things work best for everyone involved. 
Maybe there will even be time for another Day Trip, and there is nothing like a colorful but confusing village to set the scene for exactly that.
The 100: Shipping Culture and the Bellarke Romance of It All
A Sprinkle of Special Highlights
There are still worries about Zeke this season because of the actor's filming schedule, but having him alive and in the trailer discussing salvation with a happy Raven is all this fandom ever needed. They might even have a motorcycle date at some point because the trailer really knows how to deliver on the teasing.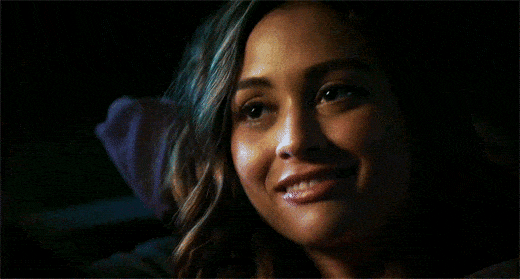 Romance was certainly in the air, even if we don't always know who is actually enjoying it. Raven and Zeke were the obvious ones but Jordan actually also found time to share a moment with a new character. Now, we may not know her yet, but the shipping has officially begun for those two. 
Madi is not going to have an easy time this season, and while it is great to see Lola Flanery in a new acting masterpiece, there is also this urge to protect her from everything bad. The good thing though is that Clarke and Madi will continue to supply us with those family feelings. We love our Griffin ladies so much!
We need to talk a second to thank the sound and visual department that brought us this trailer in the first place. The storytelling that was told through all of these departments helped make this potentially the most epic The 100 trailer yet, and for that, we are so thankful.
One plot point that wasn't mentioned but probably should be is the way that the ship and the planet seem to be in play, with some characters down there and some not actually appearing there just yet. Octavia and Diyoza are on that list for sure, with them spending more time on the ship at least based off the trailer.

This definitely helps arrange the groupings and settings that might become a theme for this season. 
Now for the most important question of all, who are you most excited to see fight their potential clone? None of this is confirmed, but fans have already been looking at the way that Clarke, Octavia, and maybe even Madi are in frames with people resembling themselves a little bit more than we are comfortable with. Which showdown would you like to see this season?
Don't forget that there will be more promotion this weekend with The 100 Season 6 premiere airing at WonderCon on March 31st, with Eliza Taylor, Bob Morley, Marie Avgeropoulos, Richard Harmon, Taysa Teles, Shannon Kook, JR Bourne, and executive producer Jason Rothenberg all scheduled to take part in a Q&A afterward.
What are some theories that are already burning in your mind after that epic trailer? Check out the trailer and share them with us in the comments section and keep an eye on TV Fanatic for a The 100 Season 6 theory/trailer shot breakdown coming up soon!
The 100 returns on Tuesday, April 30 at 9/8c on The CW.
Stick around TV Fanatic for more features, slideshows, episode previews, and reviews of the upcoming season, and watch The 100 online if you need to catch up on the adventure.