The Progressive Age may have started in the late 19th century, but such enlightened ideas weren't benefiting those in New York City's dark underbelly.
These squalid spaces are from where many of the alienist's patients come.
What is an alienist? Think of one as the ancestor of Criminal Minds and CSI.
An alienist is one who studies mental pathologies and deviant behavior. One would also provide expert testimony in court to determine whether a person goes to prison or a mental hospital or is released.
Why an alienist? According to Caleb Carr in his 1994 best-selling novel of the same name, upon which this series is based:
"Prior to the twentieth century, persons suffering from mental illness were thought to be 'alienated,' not only from the rest of society but from their own true natures. Those experts who studied mental pathologies were known as 'alienists.'"
The alienist, in this case, is Dr. Laszlo Kreizler. He's a social pariah not just because of his profession, but also because of his obsessive intensity and controversial views. He runs an institute which is a haven for "damaged" children.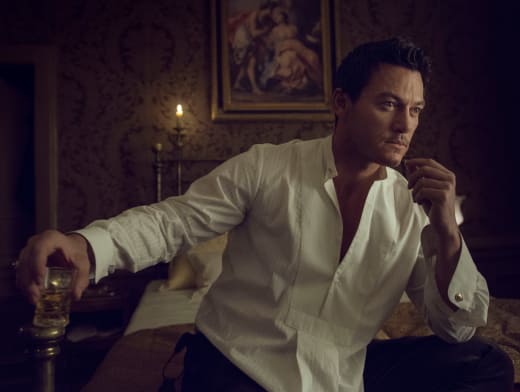 He is aided in his investigation by his Harvard classmate, John Moore, a society illustrator for the New York Times. A man about town, Moore complements the alienist, having the social skills which Kreizler sorely lacks.
Kreizler, and by extension Moore, are recruited by another Harvard classmate, Theodore Roosevelt, the city's police commissioner, to investigate the case of a slain, brutalized young male prostitute.
Roosevelt seeks justice for those most in his corrupt department would just as soon ignore, as would the businessmen who sate the city's vices.
For this off-the-books operation, Roosevelt supplies Kreizler with Sara Howard, his secretary and the first woman in his department, and Marcus and Lucius Isaacson, brothers who face the double obstacles of being Jewish and believers in the new techniques of forensics.
The key members of this edgy drama are:
Daniel Bruhl in the title role of Dr. Laszlo Kreizler, the compassionate, dedicated alienist; 
Luke Evans as Kreizler's closest friend, the handsome and indolent John Moore;
Dakota Fanning as the ambitious, inquisitive Sara Howard;
Brian Geraghty as Theodore Roosevelt, the crusading police commissioner, and future president;
Supporting cast members include:
Douglas Smith as Detective Sgt. Marcus Isaacson, the more outgoing of the two brothers;
Matthew Shear as Detective Sgt. Lucius Isaacson, the more introspective of the two brothers;
Robert Ray Wisdom as Cyrus Montrose, a former patient of Kreizler who now serves as his carriage driver and bodyguard.
We'll be back with a full review on Monday, Jan. 22, with The Alienist Season 1 premiere starting at 9 p.m. on TNT.
Show:

Tag:

Related Videos:

Uploaded by:

Uploaded:

Duration: