The Fosters Season Finale Promo: Celebrating the 100th!

Jasmine Blu at .
One of the most groundbreaking television shows on air will reach an incredible milestone before they say farewell.
On The Fosters Season 5 Episode 18 and The Fosters Season 5 Episode 19, the series will celebrate their 100th episode.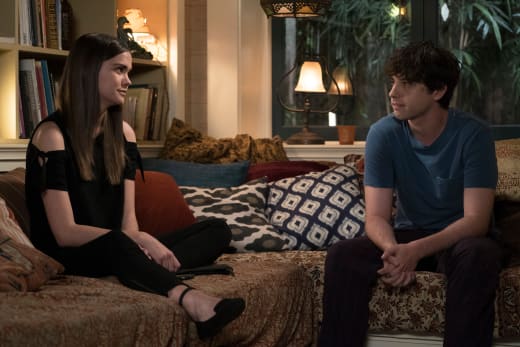 What better way to celebrate than with Callie and Brandon's graduation? It's the perfect way to get the whole family together as well as reflect on just how much the characters have grown over the years.
There appear to be a few familiar faces, notably the fathers of the series. Mike returns after being MIA for a bit to celebrate Brandon's big day.
Robert comes bearing gifts for Callie as well.
But an unexpected appearance is that of Gabe (admittedly a personal favorite, so I'm stoked!)
Moms, Gabe, Emma, Poppy, and others are in the Fosters' backyard as some sort of surprise for Jesus.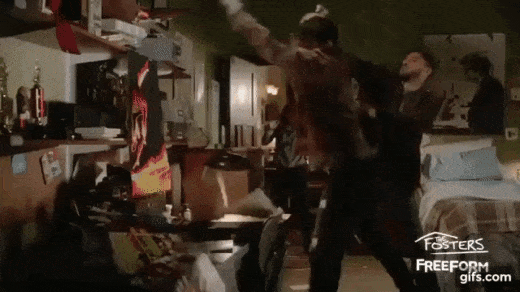 After everything Jesus has gone through, he could use something positive and good. Could it be that he'll finally be able to build his tree house?
It has such sentimental value for him.
Brandon is torn up about not wanting to leave Grace. Does that mean he'll be going away to college? Are they breaking up?
Whatever happens, Brandon appears so distraught, he's shown sobbing, that Callie ends up comforting him.
The fathers also wonder if Brandon and Callie will even make it to their own graduation. Lena has doubts.
In a special moment Callie thanks her mothers for never making her feel disposable.
Mariana, in a moment of wisdom, echoes the sentiment of devout Fosters fans and reminds Callie that she "doesn't have to keep creating these tragic love stories."
Preach, Mariana. But what could that be in reference to and why is there a brief shot of Aaron walking away from her?
There's also a blink and you miss it shot of Jude painting his fingernails. Oh gosh, you guys. The Connor feels!
It's the 100th episode and the two hour season finale on the next The Fosters airing March 13.
Snuggle up with your loved ones, sing that catchy theme song to the top of your lungs, and grab some tissues just in case.
Then join us for a full review.
As usual, you can watch The Fosters online here at TV Fanatic. Check out the promo below and hit the comments with your reaction.