Tits up!
It's almost time to head back to 1958, and we cannot wait!
This first look teaser trailer for The Marvelous Mrs. Maisel Season 2 plays out to the tune Get Happy from Judy Garland, and if a smile is not pasted across your face from start to finish it only means one thing.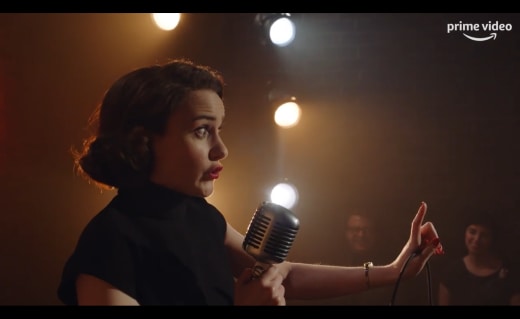 You failed to watch The Marvelous Mrs. Maisel Season 1 on Amazon Prime.
Whether you thought it was your cup of tea or not, I can assure you it was.
Mrs. Maisel found herself in her on the comedy stage after she lost her husband to another woman.
Related: Forever: First Look at Amazon's Upcoming Fred Armison and Maya Rudolph Comedy
The caveat was she had been writing comedy bits for her husband in his quest to stand up for years.
Some people have it, some don't. The Mrs. didn't have to think twice about her performance while the Mr. did too much thinking and falling flat was his forte.
Rachel Brosnahan simple stuns as Miriam "Midge" Maisel, and the second season trailer seems to show her at her absolute comedic best.
Alex Borstein as Susie Myerstein is a marvel and her line in the trailer is already one of the standouts of the second season, and it's still in production!
Marin Hinkle and Tony Shaloub as Midge's parents, Rose and Abe Weismann are providing some great bits, including Abe's exercising on the dock. Who doesn't love Shaloub's physical humor?
Related: Homecoming: Julia Roberts Thriller Gets Fall Launch, First Photos
Shazam star Zachary Levi will be a recurring guest in the Weismann/Maisel world as an eclectic doctor. Will he catch Midge's eye?
We can only hope he tries to get his hooks into her for the sheer excitement the two would share on camera.
There isn't a premiere date yet for The Marvelous Mrs. Maisel Season 2, but it's supposed to be launched before the end of 2018. Merry Christmas and Happy Hanukkah!