The Orville EPs on Star Trek Influences, Sci-Fi for Everyone

Carissa Pavlica at . Updated at .
Executive producers Brannon Braga and David A. Goodman met with press at New York Comic Con to talk about The Orville.
Unfortunately, Seth MacFarlane was unavailable to attend in person, so we didn't get to chat with him, but his EPs and cast did a fine job in his place.
And let me get this out of the way – I was working with a new camera, and it was finicky. Please forgive me!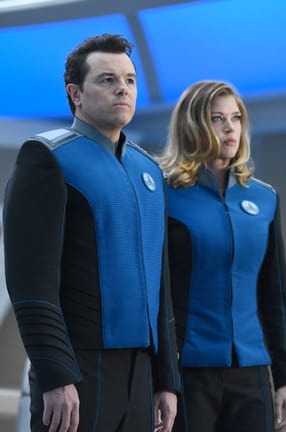 Braga and Goodman don't take a lot of the credit for what's happening on The Orville, tossing kudos for stories at MacFarlane.
MacFarlane, after all, is interested in the "exploration of ideas," according to Braga.
He was the man responsible for bringing Cosmos back to television! (I had no idea about that!)
For those of you who found The Orville Season 1 Episode 3, "About a Girl," compelling, in which Bortus and Klyden debate over the sexual orientation of their baby, you'll be thrilled to learn you haven't heard the last of that struggle.
While The Orville is meant to pay homage to the original Star Trek in such a way that you can hop into the program at any time and start watching, that doesn't mean the action that occurs will do so in a vacuum.
Check out the roundtable discussion with Braga and Goodman to find out what they think of the series' success so far, what it's like to work with MacFarlane and learn a little bit about the vision for The Orville going forward.
The Orville airs Thursdays at 9/8c on Fox and returns tonight after a brief hiatus.
If you've missed any of this new sci-fi journey so far, you can watch The Orville online to catch up.