The Vampire Diaries Promo: Will Damon Murder Caroline?
Paul Dailly at .
Will Damon's new conscience be destroyed by the return of Cade?
That appears to be on of the main questions on The Vampire Diaries Season 8 Episode 11. As you probably already know if you watch The Vampire Diaries online, Cade made his way to Mystic Falls to keep tabs on Damon and Stefan.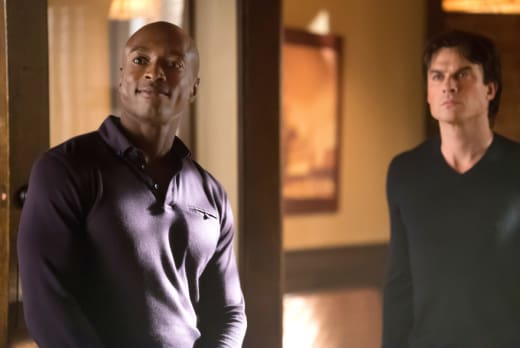 Apparently, he was worried about the lack souls being sent his way and the fact that someone almost created a fiery path straight to him. 
He will present Damon with a shocking ultimatum: Kill 100 evil souls, or kill Caroline Forbes. With Damon being back to his normal self, this is a moral dilemma for him. 
Caroline and Matt realize that it's all about getting the correct equation together to take the villain out for good, but then there's a scene with Caroline seemingly offering up her demise to save the lives of 100 people. 
Losing Caroline so close to the end of the series would be a slap in the face for fans. As much as I don't think they would go there, they could do a fake death to keep us all in suspense. 
Hopefully, that's not the case. 
Either way, we'll need to tune in to watch the full episode. 
Have a look at the full teaser below!