The X-Files: Gillian Anderson on Maturing, Eye-Rolls, & Humor Since Episode 1

Carissa Pavlica at . Updated at .
Gillian Anderson is stunning and full of life. Let's just get that out of the way up front.
She's saucy and pushes back during an interview, too. Without a doubt, she was the most fun to talk with about The X-Files Season 11 and was even willing to share more information than all the other Comic-Con guests.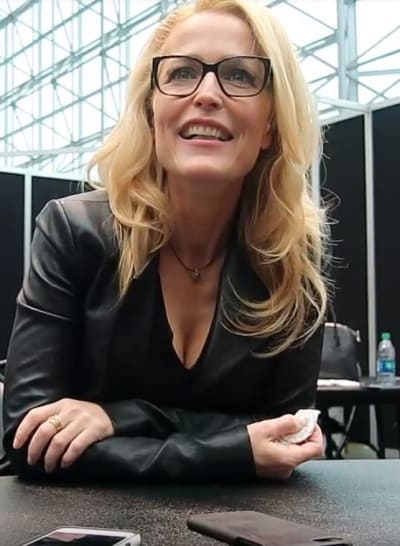 Top on her list is the idea of getting to meet her son, William, at least giving the boy a face after all this time.
Like Mitch Pileggi before her, she puts in a good word for the upcoming Darin Morgan episode, and if it's anything like what we got during The X-Files Season 10, we're in for a treat.
Anderson played with me when I noted she's embraced her sexuality more since the return of the series (a statement I stand behind).
Despite pretending she had no idea what I meant, I think she knows the female strength I was trying to bring to light. I hope!
Her favorite trait to play about Scully is what she called her "eye roll" demeanor. Maybe that comes with the maturity she's bringing to the role that she wears so well.
Listen to the full interview below. I dare you to stop smiling while doing it.
To get caught up on all the mystery, watch The X-Files online to familiarize yourself with the story of Scully and Mulder.
The X-Files returns on Fox Wednesday, January 3 at 8/7c.