Training Day Exclusive Clip: It Takes a Monster to Catch a Monster

Carissa Pavlica at .
Welcome to "Tehrangeles."
What better name for a city where the likes of former members of Muammar Gaddafi's Amazonian Guard are now getting involved with kidnapped girls and upping the stakes in their return?
Kyle's concern grows on Training Day Season 1 Episode 2, because he believes Frank's rogue tactics will put a kidnapped girl's life in even great risk.
One person who doesn't necessarily share that concern is Detective Valeria Chavez. Christina Vidal joins Training Day as Val, a tough a nails detective who knows Frank's value on the streets.
She's witty and willing to get down into the thick of things if it will save lives.
But she's also going to let the Frank fly in the wind if he goes overboard.
As Frank puts it, he can play dirty and stay in the carpet, and she'll still get her deposit back because he's not in her chain of command.
If you haven't given Training Day a try yet, find the first episode on CBS.com and give it a look. 
The trailers didn't do the series justice, and it has a lot more going for it than you might imagine.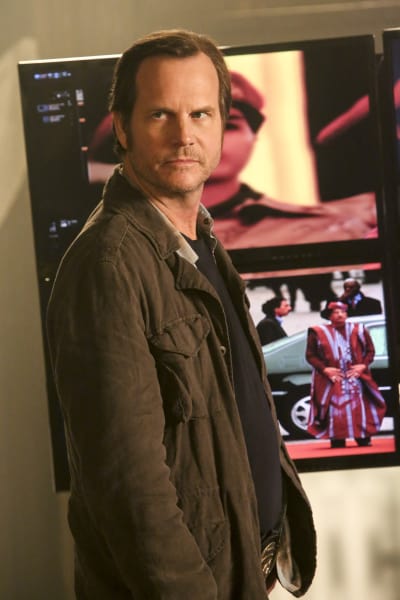 Bill Paxton's Frank is much more than he appears on the surface, and his trainee, Justin Cornwell's Kyle is also layered enough to find Frank compelling. 
I fully expect these two to bond and become quite the dynamic duo.
The supporting cast, too, gives us something to shout about. Here we have the addition of Vidal, and Arrow's Katrina Law and Pretty Little Liars' Drew Van Acker round out the team.
Savor the fast-flying dialog in our exclusive clip, and let it serve as your first taste to determine whether Frank is a monster or not. Hint: gray area!
Training Day airs tonight at 10/9c, on the CBS Television Network. Don't miss it!